Abrimos esta nueva seccion del blog que incluye mis opiniones sobre los grandes artistas del Rock y algunos del Pop y sus virtuosismo en los instrumentos, o como en este caso la voz.
Bueno esto iba a ser originalmente sobre guitarrista, pero ayer leí una noticia sobre Michael Jackson.
Resulta que el Rey del Pop habria sido castrado en una operacion contra el acne juvenil entre los 12 y 20 años, esa seria la razon de su aguda y angelical voz y tambien explicaria la mas que obvia homosexualidad del cantante (obvio muchachos, jamas le toco un pelo a Brooke Shields) y ademas de que sus hijo no son de el ya que no tendria testiculos para producir esperma y no funcionaria su masturbacion y otra cosa que me desmiente a mi es que llegaba a las notas agudas por su famoso movimiento de agarrarse la entrepierna (iba a decir una guarangada pero seria mentira) y esto aumenta mis pensamiento de que los homosexuales son mejores cantantes y ahora me hacen dudar de varios cantantes que tengan huevos. Ejemplos de gays o bisexuales cantantes me sobran: Freddie Mercury, el mismo Jackson, Rob Halford, George Michael, Jagger, Bowie, Elton John, no vamos a dudar de la hombria del Sr Plant o de su falta de escroto, ya que hay fotos y yo he subido una ultimamente donde se nota su bulto, y mucho menos del Sr Gillan, que si, tiene pinta de trolo, una voz aguda de nena, pero tiene mujer y hijos y de su falta de huevos, a pesar de su intento de axficiarlos con sus pantalones ajustado esta foto demuestra lo contrario.
Looks Ian's Fireball
Si mis inmundos lectores, esta foto es la foto mas asquerosa de la historia. Mas asqueroso que lo que se le venga en la mente y si se enojan lo lamento, entonces para que mierda lo leen al blog y ademas no respeto opiniones de la mayoria del mundo asi que no se aceptan quejas sobre el huevo del Sr Gillan y si quieren mas fotos de la entrepierna del Scream-Man del Rock Ahi una Con George Harrison pero el Post ya seria muy porno.
Siguiendo con el tema anterior, es sacrilegio dudar de la sexualidad de Bon Scott y Brian Johnson y mucho mas de la Rod Stewart, David Coverdale, David Lee Roth, Sebastian Bach y los 4 Motley Crue, aunque sean un poco afeminados, no lo son.
Del que si podemos dudar y mucho es del cantante de Yes, Jon Anderson, que tiene mucha pinta de puto y tiene una voz mas angelical que Michael Jackson para quienes no los conocen, pro bueno, todo puede ser, Rob Halford, todo vestido de cuero, Harley Davison a lo Pappo, el macho definitivo, resulto ser uno de los mas putos de todos, incluso la vestimenta de cuero, Halford la saca de un sex -shop gay que lo vendia para actos sado-masoquistas sexuales.
Bueno, vamos a empezar con gran Elvis Presley, sin duda la 1º gran voz del Rock, por mas que cualquiera grabe con un registro de la puta madre, por mas de que su version sea mejor, en los 50's, todo lo que hacia Elvis vendia mas que ello porque era el Rey, pero les dejo videos de su 1º etapa, donde da sus mejores performances vocales en su version de estudio.
Hound Dog
Jailhouse Rock
Este soy yo, no el gordo de blanco que canta en Las Vegas
Bueno, Elvis va a hacer el servicio militar en 1958, y luego vuelve, meten un par de exitos, y se retira temporalmente hasta 1968 donde vuelve con sus varios kilos de mas y su traje blanco, donde graba temas melodicos, aunque su Voz estaba intacta.
El Rey
Burning Love
Viva Las Vegas
Elvis murio joven, lo que hace que deje varias grabaciones y hagan remaster o remix de sus canciones, les dejo mis preferidos y los mas conocidos.
A Little Less Conversation
Suspicious Mind
En cuanto a sus versiones en vivo, no variaba mucho de sus grabaciones en estudio, ya que su voz siempre estuvo intacta hasta sus ultimo 2 años, donde debido a su abuso de pastilla le desgastaba su poderosa voz. Sin duda su concierto mas conocido en el "Aloha From Hawaii" que se trasmitio en vivo por satelite a todo el mundo y fue visto por 1 billon de personas.
My Way
An America Trilogy
Seguimos con un contemporaneo del Rey, nuestro querido Litte Richard, sin dudas una de las mejores voces del rock, ademas fue el 1º en tener notas muy agudas y eso influyo mucho en varios cantantes muy buenos, como McCartney y Gillan.
Es un monstruo
Good Golly Miss Molly
Long Tall Sally
En sus Actuaciones en vivo no pierde su voz, incluso ahora a los 78 años, su fantastica voz sigue intacta
Tutti Frutti
Lucille
Jerry Lee Lewis y Chuck berry no son malos cantantes pero son mejores instrumentistas y no creo que sean tan buenos como estos. Para cerrar esta epoca esta el señor Roy Orbison, innovador en el falsete del rock y creador de la famosa "Pretty Woman".
Me uni a la moda Beatle. (Si pero 20 años tarde Roy)
Pretty Woman
En sus actuaciones en vivo, como todos los artistas de la epoca, no cambia su registro
Crying
Pasemos a la decada del 60, donde tenemos a 3 de los Beatles: McCartney, Harrison y Lennon, en ese orden debido a su voz. Todos sabemos que Paul es el Mejor de los 4 que canta, tiene un gran registro y el que mas facil se manejaba en los agudos pero es un inexpresivo de mierda y tiene cara de boludo. Aqui les dejo sus mejores interpretaciones en los Fab Four.
si antes parecia mogolico, aqui ni les digo
Oh Darling!
Hey Jude
En solitario, Paul tiene buenos rendimiento en su voz, por lo menos en sus primeros discos
Maybe I'm Amazed
Band On The Run
En vivo, Paul suele tener un buen rendimiento, aunque la voz se le ha ido desgastado con el tiempo.
Live And Let Die
George no canta mucho en la banda debido a que solo cantaba los temas que el componia. pero dejo una genialidades.
Harrison y Wyman son igualitos.
While My Guitar Gently Weeps
Something
En su carrera en solitario es, para mi, el que mejor discos saco, en especial su disco debut triple "All Thing Must Pass" y su gran hit ochentero (aunque medio gay) "Got My Set On You"
My Sweet Lord
Got My Set On You
Harrison no le variaba mucho el tono en vivo, al igual que Paul,, porque ninguno de los 4 (Ringo tambien) se caracterizaba por dar grandes shows en vivo ya que The Beatles no tocaban en estadios, el unico show en un estadio fue en el Shea Stadium de Nueva York, que no se escucha muy bien por el grito de las Fans, quizas el que mas se presentaba en estadio con gran publico es Paul pero ahora de viejo, John se la pasaba protestando con la ponja. George fue el organizador del conocido "Concierto Para Bangladesh" donde participaron Bob Dylan, su muy amigo Eric Clapton, (eran tan amigos que George le presto a Pattie a Slowhand y este no se la devolvio, aunque cabe decir que a George tambien les prestaban las mujeres de Ron Wood y Ringo)(aunque el 2º no sabia de esto y se la movieron la mitad de la aristocracia del Rock Ingles)y varios mas,
Here Comes The Sun
Por su parte, Lennon era el peor que cantaba de los 3 (Ringo es muy malo) ya que le costaba mucho grabar y tenia que doblar su voz constantemente para que quede satisfecho. igual era el carismatico del grupo y todos lo querian. En el cuarteto de Liverpool ha tenido destacada performance, como en "Twist And Shout", "Revolution" y otros mas.
Harry Potter se va a comer una denuncia por uso de mi imagen
Twist And Shout"
Hey Bulldog
En cuanto a su carrera en solitario, solo hay que escuchar "Imagine" y "God" donde se ve el potencial de Johnny.
Imagine
God
En vivo, siempre me gusto su version de "Come Together".
Come Together
Pasemos al genial Mick Jagger, Jagger es raro, puede ser el gran macho que se curtia a Jerry Hall, a ser el asexuado que se acostaba con David Bowie. Por estas cosas y mas es un tipo raro y ademas tiene la voz rara, no llega a ser blusera ni para cantar pop, tampoco llega a ser un canctante de Hard Rock, en teoria su voz es sexualmente erotica, amen de las letras que escribia que eran perfectas para su tono sexy de voz, Aunque ha llegado a tener registros altos como en "Miss You", "Streets Of Love" o "Simpathy For The Devil" donde debe llegar a los tonos mas altos de carrera.
Un Negro me ve y me dice: "Hijo de puta, tenes los labios mas grandes que yo y mis hermanos
Angie
Simpathy For the Devil
En vivo Jagger incluso a sus ya casi 70 años tiene su voz intacta, aunque en esa epoca los cantantes no forzaban tanto su voz, incluso en su ultimo album se lo ve muy bien en los agudo, como en "Streets Of Love" llega anotas bastantes altas aunque en los conciertos siempre tienen coristas ya que su voz no es tan potente y tampoco lo es la de Richards y Wood para usarlos de coro.
Miss You
Streets Of Love
Voy a aclarar que salteare a los Beach Boys porque todos tienen la Voz parecida ademas nunca supe quien canta, si es Brian, si es Dennis o si es Carl, pero luego hare un post de ellos y les contare.
Para mi Roger Daltrey es el mejor cantante de esa epoca, junto a Eric, pero Daltrey siempre vendio mas ademas es mas apuesto que Burdon, si los comparamos Daltrey es como un muñeco, tiene ojos claros y grandes rizos dorados, es practicamente perfecto, mientras que Burdon es narigon, feo y tenia cara de pelotudo.
Bueno hablando en serio, Roger tiene una de las mas poderosas voces del Rock, y lo demuestra en la epoca de The Who donde hacen Operas Rock, y tiene una de las mejores performance de la historia en la cancion que cierra Quadrophenia "Love, Reign O' er Me"
Asi estare en el tributo a mi amigo Freddie
Baba O'Riley
Love Reign O'er Me
En vivo, Roger se lucia bastante como Showman, revoleando su microfono, Aunque Townshend y especialmente Keith Moon le robaban el show, pero su voz era muy buena en vivo, aunque con los grandes destructores del Rock su voz era impresionante, quiero destacar su presentacion en el tributo de Freddie Mercury para cantar "I Want it All", es destacable su interpretacion ya que era la 1º vez que se cantaba en vivo. Ah y diganme si no esta igual que en la foto.
Won't Get Fooled Again

I Want It All



Eric Burdon es un gran cantante pero desde que se abaraza con Bon Jovi no me cae muy bien, ademas lo unico muy destacale es en "The House Of The Rising Sun", despues no mas. Keith Reif (The Yardbirds) tampoco lo es. Ray Davies menos, no vamos a nombrar al escritor de "Blowin In The Wind" y Ray Charles y James Brown si entran porque son actitud rock. El 1º, los podemos poner como el creadror del Soul, con su potente Voz, grabo varios hits, y el otro es un monstruo pero no entiendo un choto lo que dice.
Hit The Road Jack
I Feel Good
Siguiendo en los 60' nos encontramos con el gran Jim Morrison, con registro de Baritono desgastada por el alcohol y la droga hace una de las mas grandes voces del Rock y una de los mas grandes Front man, Sexy, provocador, revolucionario, con unos movimientos que Elvis quedaba como un Cura al lado de Jimbo, sus grandes performances las da en los 1º albums y en el ultimo.
Chupala Val Kilmer, yo la tengo mas grande
The End.
L.A Woman
.
En vivo, las actuaciones de Jimbo variaban segun su estado, ya que Morrison solia dar conciertos re volado omuy en pedo, llegando a masturbarse en vivo y por eso fue perseguido por la policia hasta que murio en paris en 1971 (imaginate que si eras negro te cagaban a tiros, si eras trolo te mataban, este que se falopeaba, chupaba, escribia letras acerca de del sexo y las drogas y encima eso). Adema fue uno de los 1º's en quedarse en cuero en el escenario.
The End
When The Music's Over
Seguimosw con animal de la voz, el Sr John Fogerty, Cantante y guitarrista de Creedence, con esa gran voz
soy igual a Steve Martin con color en el pelo
Aunque no parezca, Fogerty es un geniocantando, tiene una voz muy potente, que se adaptaba a cualquier tema. su voz suena muy parecida en vivo y es complicado distinguir su voz con la del estudio
Good Golly Miss Molly
Travelin Band
Bueno ya lo dije en vivo Fogerty mantiene su pero igual les mostrare algunos videos
Born In The Bayou
I Put A Spell On You
Jack Bruce y Hendrix son grandes cantantes pero mejores instrumentistas asi que no los incluire en esta lista. Entonces le llega el turno a la gran gran Janis Joplin, con una voz aplastante, tremenda, la reina del Rock And Roll, en vivo era igual que en estudio aplastante.
Que grande Janis
Cry Baby
Piece Of My Heart
Seguimos con los White Blues con el simpatico Joe Cocker y su voz de arena con la cual grabo su genial "You Can Leave Your Hat On"
Miralo a Joe con pelo
You Can Leave Your Hat On
Seguimos con mi compadre enfermos por las mujeres blondas, el Sx Rod Stewart, un gran cantante que paso por el Jeff Beck Group, The Faces y su exitosa Carrera en solitario, ademas que redefinio el showman del Rock junto al siguiente cantante
y si, da envidia que con esa zunga tenga mas minas que cualquier hombre
I Ain't Superstitous
Stay With Me
Da Ya Think I'm Sexy
Maggie May
En vivo, Rod es Fabuloso, re invento el concepto de showman con corriras por el escenario, pero obviamente tenia unos animales cuando estaban con el Jeff Beck Group y The Faces, y tambien en su carrera en solitario.
Blues Deluxe
I'm Losing You
Blondes Have More Fun
Hot Legs
Antes, les dije que Rod habia re inventado el concepto de Showman junto al siguiente cantante, estamos hablando del Dios dorado del Rock, Robert Plant, Percy es el mas revolucionario cantante y showman de la historia, debe ser el 1º en cantar con la voz enteramente aguda y al mismo tiempo blusera, ademas de su movilidad en el escenario anormal para la epoca, ni Morrison, ni Elvis, Ni Jagger, Ni Daltrey, Ni Rod Stewart se movian como Plant, Percy lo invento todo, el pasito sobre el escenario, como usar el microfono, como cantar y la quimica con sus compàñeros. Encuanto a su voz, Percy es el Rey del High G porque siempre cantaba en ese tono y era raro que baje de el, ademas fingia orgasmo en algunas canciones y su labor en los primeros 4 albums de Zepp es aplastante.
Pose de Dios
Communication Breakdown
Ramble On
Whole Lotta Love
Immigrant Song
Since I've Been Loving You
Black Dog
Misty Mountain Hop
En vivo Plant en algunas canciones no gritaba los agudos pero generalmente su voz la exigia al maximo.
Stairway To Heaven
Kashmir
Rock And Roll
Hasta ese momento nadia era mas agudo que Plant, pero señoras y señores llega el Señor Ian Gillan (si el que se le ve el huevo al comienzo del post), Gillan es un cantante de la concha de la lora, llega a los tonos mas altos de la historia del Rock y su 4 discos con Deep Purple en los 70's , su Disco con Black Sabbath en 1983 y su participacion en la obra de Teatro en la obra JesusChrist Superstar estan a otro nivel, ademas de sus discos como solista. Es aplastante su dominio de los rangos vocales en donde se manejaba sin problemas aparentemente por lo menos en los 70's y los 80's despues es bastante lamentable su interpretacion vocal siendo necesario usar los tonos altos de la guitarra para disimular la falta de tonos altos.(y pensar que antes los imitaba)
Mira Olmedo era cantante de Deep Purple
Bloodsucker
Child In Time
Hard Lovin' Man
Space Truckin
Rat Bat Blue
Les muestro su gran cancion de JCSS.
Gethsemane
Gillan es mas aplastante en vivo que en estudio solo hay que escuchar el Made In Japan, parece que supera los limites de la fisica.
Starnge Kind Of Woman
Child In Time
Smoke On The Water
Seguimos con alguien parecido en lo fisico y en lo vocal a Gillan, el ya antes nombrado cantante del grupo Yes, Jon Anderson, un tipo bajito con voz y pinta de nena pero un gran cantante teniendo la voz de un contratenor y sin dudas una de las mejores voz del Rock y la mejor del Rock Progresivo.
Que feo kimono
We Have Heaven
Owner Of A Lonely Heart
En vivo, Anderson llegaba sin ningun problema a los tonos altos de estudio y los podia reproducir a la perfeccion, sino miren y comparen
Roundabout
Owner Of A Lonely Heart
Seguimos con el mejor, Freddie Mercury. y les explico porque. Ninguno de los cantantes ya nombrados y los que proximamente aparezcan en este post tiene la facilidad de Mercury para adaptarse a cualquier estilo, los mas cercanos son los 3 Beatles y Plant, pero ninguno de los 3 primeros tiene el registro de Mercury y Plant no tiene tanta variedad como Freddie, el cual era capaz de cantar el mas salvaje Heavy Metal (Stone Cold Crazy) o la balada mas dulce (Love Of My Life, Save Me), de cantar una Opera (Barcelona, Bohemian Rhapsody) a cantar melodias Pop (I Want To Break Free, Radio Ga Ga), tiene uno de los mejores falsete del genero llegando tener un tono muy femenino (Funny How Love Is) y tonos altisimos (Under Pressure), ademas de una potencia impresionante en su voz lo que le permitia no cantar agudamente en vivo, aprovechando lo bien que quedaban sus canciones mostrando su potencia de voz (Somebody To Love)
El Rey con corona, capa, cetro y Bigote
My Fairy Queen
The March Of The Black Queen
Funny How Love Is
Brighton Rock
Stone Cold Crazy
Bring Back That Leroy Brown
Love Of My Life
Bohemian Rhapsody
Somebody To Love
You Take My Breath Away
Spread Your Wings
It's Late
Don't Stop Me Now
Dead On Time
Dragon Attack
Save Me
´
Under Pressure
It's A Hard Life (no se aceptan criticas acerca del vestuario del señor Mercury)
Is This The World We Created?
Who Wants To Live Forever?
One Year Of Love
Breakthru
All God's People
The Show Must Go On
En cuanto a su carrera solista, tiene (Para mi) su mejor performance.
In My Defence
Barcelona
How Can I Go On
En vivo Mercury tomo los movimientos de Plant y el uso de Voz de Gillan, traspasando los agudos de este a su potencia de Voz dando versiones aplastantes de temas.
Save Me
Somebody To Love
Impromptu
Live Aid
Bohemian Rhapsody
Bueno, en realidad son 2 vocalistas, uno, nuestro querido y endiosado David Coverdale y El Otro Glenn Hughes, del que destacaremos solo su labor en vivo porque desconozco su carrera solista, mientras que del clon de Robert Plant mostraremos material en Deep Purple y en WhiteSnake.
Los Pimpinela del Rock
Soldier Of Fortune
Mistreated
En vivo con Purple.
Burn
Mistreated
David Con Whitesnake
Here I Go On Again
Still Of The Night
Seguimos con la ex Sex Machine Steven Tyler, que ya no se acuesta con jovencitas y encima tiene que usar Viagra para estar con las cuarentonas, pero lo que nos interesan es su voz y es muy buena, especialmente con sus desgarradores gritos en los 1º's discos de Aerosmith.
Soy el hermano no reconocido de Jagger
Back In The Saddle
I Don't Want To Miss A Thing
Y les dejo su aplastante version en vivo de Dream On
Dream On
Ahora hablaremos del gran icono de la musica Glam, El Sr. David Bowie, que no tiene una super voz pero es una muy importante yademas generalmente lo llaman para hacer coros en alguna cancion asi que tan malo no es, solo es raro.
Baila muy mal David
Rock N' Roll Suicide
Starman
En vivo sin dudas, tiene una de las grandes canciones: Heroes
Heroes
Seguimos con uno de los cantantes de KISS, bah en realidad el cantante de KISS, El Sr Paul Stanley, que es un gran cantante aunque como KISS no es una banda virtuosa y fija su atencion en dar un super espectaCULO, y creo que esta foto afirma mi insinuacion.
I wanna your life, Paul
I Was Made For Loving You
Love Gun
En Vivo
Hotter Than Hell
Seguimos con un tipo que quisiera que fuera mi amigo, el Sr Bon Scott, un impresionante cantante y persona, con esa voz de Borracho y aguda es clasica para las canciones de AC/DC, les dejo sus mejores canciones.
Que vida Bon
Rock And Roll Singer
Highway To Hell
En vivo Bon mantenia su tono borrachin, pero lo mejor era el espectaculo con Angus
Dirty Deeds Done Dirt Cheep
If A Long Way To The Top (If You Wanna Rock And Roll)
Seguimos con uno pque para mi no es buen cantante, pero hizo un estilo y ademas lo puse a Paul Stanley y a Bowie y lo voy a tener que poner a Ozzy Osbourne, Cantante de Black Sabbath les dejo sus mejores performance en Sabbath y en solista (vivo y estudio)
No Ozzy!! A Rene no, es un genio el bicho ese.
En Sabbath
Iron Man
Paranoid
En solista
Crazy Train
I Don't Wanna Stop
Bueno, Ozzy debe ser una de las personas menos queridas en el ambiente musical, Asi que pasemos a alguien que se llevaba bien con todo el mundo menos con Ozzy, tan bueno era que le caia bien a Blackmore y eso es mucho decir, Hablamos del Creador de los cuernitos en el Rock (gracias Abuela Dio) El Sr, Ronnie James Dio, 1.64 de puro talento, inventor de la letras de dragones y medioevo en el Heavy Metal, para mi luego de Mercury, Gillan y Plant, el mejor cantante del Rock. Les dejo canciones en Rainbow, Sabbath y en su banda, Dio.
Te queremos Ronnie
Man On The Silver Mountain
Long Live Rock And Roll
Stargazer
Heaven And Hell
Rainbow In The Dark
En Vivo, Ronnie era un mostro y lo demuestra en el Live At Munich con Rainbow
Catch The Rainbow
Mistreated
En Linea de Sucesores seguimos con un tipazo, Brian Johnson, Actual cantante de AC/DC, un tipo que llega muy bien a los agudos y mantiene su voz en ese tono altisimo por lo menos en los 80's.
Working Class Singer
Back In Black
Shoot To Thrill
Hell Bells
En vivo, Brian tiene una voz mas grave y sucia en vivo pero bueno igual el show es impresionante.
Thunderstruck
You Shook Me All Night Long
Seguimos con los cantantes de la New Wave, Empezamos con el God Metal Rob Halford, un animal de los tonos altos y bajos. Solo escuchenlo
Metal God
Victim Of Changes
Painkiller
Dreamer Deceiver
En vivo, Rob era muy bueno ya que podia golpear las notas altas sin ningun problema, Veanlo
Breaking The Law
Freewheel Burning
Victim Of Changes
Seguimos con su siempre competidor, El cantante de Iron Maiden, Bruce Dickinson con sus geniales gritos le dio el sonido a los Maiden.
Que dientes feos la puta madre
The Trooper
Rime Of The Ancient Mariner
En vivo:
Children Of The Damned
Where Eagle Dare
Seguimos con uno de mis Favoritos, Stevie Wonder, con esa voz dulce, una voz prodigiosa una de las mejores del Pop, Soul y Funk.
Un Grande Stevie
Isn't She Lovely
For Your Love
En Vivo
Superstition
Keep Our Love Alive
Seguimos con Michael Jackson, un engendro muerto hace poco
Esta foto es mas fea que la del testiculo de Gillan
Dirty Diana
Who's Loving You
En vivo:
Billy Jean
Podemos ir por el Punk para visitar al Sr Joey Ramone, un animal de los tonos graves
I Wanna Be Sedated
What A Wonderful World
En Vivo:
Blitzkrieg Pop
Seguimos con los 2 cantantes de Van Halen, Nuestro querido David Lee Roth y Sammy Hagar.
Que Maya Horrible la puta madre
Jump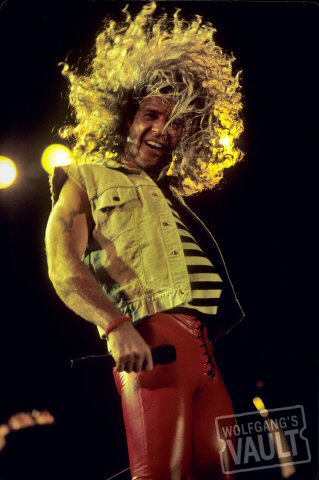 Lastima Que ya no los tiene a los pelos
Right Now
En Vivo
You Really Got Me
Rock Ad Roll
Seguimos con 2 cantantes de Rainbow Graham Bonnet y Joe Lynn Turner.
Dandy
Atras de JLT esta el Sr de arriba
All Night Long
I Surrender
En Vivo
Catch The Rainbow
Stone Cold
Volvemos al Rock Progresivo con Peter Gabriel, el unico cantante de Genesis porque Phil Collins no puede ser considerado cantante.
Adivinen como esta su cabeza ahora con 60 y pico de años
Supper Ready
Bueno luego saldrá la otra parte, porque la verdad ya llevo vario dias haciéndolo y verlo todo el tiempo da odio.