Empezaron las clases de secundaria en Argentina y lamentablemente tuve que volver a las pedorras aulas a escuchar o a un viejo gaga o a una gorda o vieja tratando de explicar algo que no recuerdan, Generalmente son contados los Profesores copados que tuve en secundaria, Asi que les agradezco a los siguientes Prof.
Prof. Camargo, de Matematicas
Prof. Galano, de Historia
Prof. Luna, de Taller
Prof Garcia, de Taller
Prof. Ortiz, de Historia
Prof. Yebra, de Taller
Los demas , o son unos hijo de puta o me son indiferentes y agradezco al Preceptor Lucas de 7º y a Nati de 8º que fueron muy copados conmigo y mis compañeros, no a si como a Lidia/Nestor que nos trato siempre para el orto, esta nueva que tengo ahora ni idea como es asi que despues les digo. Pero pasemos a los que les vine a hablar.
Deep Purple es una de mis bandas favoritas, ademas de por su musica, por sus integrantes, todos me caen bien, Gillan, Lord, Paice, Glover, Hughes, muy especialmente Coverdale y el Sr Blackmore, mi loco favorito y mi guitarrista fetiche, mataria por tocar como el y aunque no es el mejor guitarrista de la historia (estan Hedrix, SRV, los 3 de The Yardbirds y ahi estan Ritchie y Brian May palmo a palmo) es el que mas me gusta su sonido, un sonido limpio, con toques de musica clasica, rapido, lo tenia todo, pero esta completamente trastornado, igual en este blog es algo asi como Dios por lo que no se lo puede criticar por hacer musica
celta con su mujer porque ella se lo debe compensar y por eso hay que admirarlo ya que Ritchie no es ninguno de esos guitarrista de los 80's con los pelos inflado, tiene las cejas casi unidas y otros cosas pero ya les dije que no lo podemos criticar.
Pero ademas de Purple y de su banda con su esposa, Ritchie tuvo otra banda muy buena como lo fue Rainbow y hoy hablaremos de uan banda que me gusta mucho y va a dar gusto comentarla.
Nos ubicamos en el año 1974, La MKII de Deep Purple se habia termimado por diferencia entre Gillan y Blackmore, Eso deriva en la salida de Gillan de la banda para hacer su carrera solista y el resto de la banda buscando cantante, la historia es conocida. Viene Glenn Hughes, se ofrece de bajista, lo echan a Glover, Blackmore quiere otro cantante y contratan a Coverdale, ya hablaremos de esto en la reseña de "Burn".
Bueno, la cuestion es que a Blackmore no le gustaba un carajo que Hughes y Coverdale le cambie el estilo a la banda, llevandola al Funk y el Soul que se ve en parte de "Burn" y muy claramente en "Stormbringer", la gota que rebalso el vaso fue que no le dejaron poner su version de "Black Sheep Woman" y Blackmore se enojo para la mierda y se fue de la banda.
Hay que usar los Jeans de Ronnie y los zapatos de Ritchie
Los teloneros de Deep Purple en esa epoca eran Elf, banda donde se encontraba un pequeño cantante con rulitos y parecido a un duende, El Sr Ronnie James Padavona, mas conocido como Dio, el cual era un gran apasionado por la epoca mediaval y los ocultismo como Page y justamente Blackmore, tambien fanatico de la mierda esa, parecian estar hechos el uno para el otro, Entonces, Blackmore echa al guitarrista de esa banda (jajaja que hijo de puta) y graban su 1º disco llamado simplemente "Ritchie Blackmore's Rainbow" con su clasico "Man On The Silver Mountain"
Man On The Silver Mountain
Catch The Rainbow
En el post de Deep Purple, yo les dije que es habitual que Blackmore eche a los integrantes de su banda y aqui lo hace todo el tiempo, aqui un ejemplo. Ritchie no quedo contento con la banda entonces echo a todos menos a Dio, con el cual compone todos los temas del siguiente album perono tenian banda para grabarlo y presentarlo en vivo, Entonces Blackmore contrata al gran Cozy Powell, ex baterista del Jeff Beck Group, el Bajista Jimmy Bain y al tecladista Tony Carey, que lo vivan echando y contratando de la banda, con ellos grabaron el gran album de la banda "Rising", con la epica y aplastante "Stargazer", de las mejores canciones del grupo, con las letras marca Dio, acerca de dragones y mazmorras. con el ritmo a lo "Kashmir", incluso con orquestacion igual que esta.
Stargazer
A Light In The Black
Uno de los duos musicales mas importantes de la historia musical (a la altura sin problemas de Jagger/Richards, Lennon/McCartney y Page/Plant) grabaria su ultimo disco juntos el genial "Long Live Rock And Roll" con su himno homonimo y varios temas uno mas genial que el otro.
Long Live Rock And Roll
Kill The King
Nos detenemos aqui, para explicar lo sucedido, Blackmore es un sociopata y me identifico bastante con el ya que a el no le cae bien casi nadie igual que a mi, incluso coincidimos que le cae bien Dio, cosa que a mi tambien y debe ser la unica persona que me puso triste su muerte, primero porque no me lo espera y segundo que era tipazo y me encanta todos sus trabajos y junto a Bon Scott deben ser las mejores personas del Rock y estaran alla arriba cantando aunque no tenga ni por un poco gustos parecidos. A Blackmore tambien se lo aprecia, es el loco mas talentoso de la historia, no esta mas de 3 años seguidos con un mismo mejor amigo, ademas de que queria un sonido AOR para llegar a USA, musical comercial para simplificar su sintaxis, Dio no lo acepto y se fue a Black Sabbath a suplantar a Ozzy. Entonces Blackmore habra dicho: "Y ya que estamos echemos un para mas" y asi fue como volaron Carey y Daisley, que habia suplantado en este ultimo disco a Bain, Aunque Blackmore grabo la mayoria de los bajos del album. Solo Quedo Cozy y con eso empezo a buscar musicos. Para el bajo, nuestro loco trastornado y poco sociable idolo guitarrero busco a un viejo conocido, al gran Roger Glover, para mi entre los 5 mejores bajista de la historia, valga la redundandcia de que Ritchie no esta bien de la cabeza y fue a buscar al mismo tipo que lo echo sin razon alguna de Purple y lo puso en estado depresivo, por lo cual Glover deja la musica para ser un exitoso Productor de bandas como Judas Priest. Bueno al parecer Roger es buenazo porque volvio devuelta con el hombre de negro, y para los teclados contrata al actual tecladista de Deep Purple, Don Airey.
Se preguntaran los que no lo saben, ¿A quien carajo contrato el loco de mierda este?. Esta claro que no cualquiera podia reemplazar a Dio, se presentaron mas o menos 80 cantantes al la audicion, incluso Brian Johnson y Gillan se barajaron para serlo pero no pegaban cantando "Catch The Rainbow" o "Mistreated". Entonces se comunicaron con Whitesnake y estos le recomendaron a un tipo llamado Graham Bonnet, quiero destacar que ninguna persona no apasionada por el genero tiene la mas chota idea de quien, deberia ser reconocido como el gran cantante que es pero esta cagado por un T.Rex con diarrea o que seas impotente y tu mujer no puede tener orgasmo, no se para que se den una idea es como Pomelo de Capusotto que se pone un doble y le caga la novia, bueno asi le paso en Alcatrazz, donde contrato a Yngwie Malmsteen para darle fama a la banda y el virtuoso sueco se lleva toda la atencion y se va a hacer su carrera solista mientras Graham sigue mendigando por el mundo Rockero.
Llegaron los 80's
Bueno hablemos de su disco en Rainbow, que es lo que nos interesa, como ya les dije, la banda iba mas a un sonido AOR o comercial como les guste, esto es raro sabiendo que Blackmore no es un tipo que por sus canciones le guste serlo ya que la gran amyoria son de mas de 5 minutos, imposible para la musica comercial pero bueno, sabemos que esta loco asi que obviemoslo, El disco se llama "Down To The Earth" y les dejo las canciones mas conocidas.
All Night Long
Since You've Been Gone
Bueno si no se dieron cuenta, Bonnet tenia una estetica completamente distinta a la banda. Jopo de los 50's, pinta de dandy, nada que ver con la pinta del resto que eran unos hippies de 1º, por esta razon Blackmore y Glover despiden a Bonnet y contratan al cantante de Fandago, Joe Lynn Turner. Que, junto con Dio y Bonnet son los cantantes mas emblemáticos de la banda.
Los zapatos feos siguen de moda en 1981
El unico problema es que Cozy Powell se va para seguir su carrera solista, asi que contratan a Bobby Rondinelli, luego de esto contratan a Turner, mas que nada porque tiene la misma voz del cantante de Foreigner, una banda re contra comercial que Blackmore queria imitar para lograr dar el golpe en USA, asi que con esta formacion sacan el album "Difficult To Cure", que trae los grandes exitos de la banda, como "Spotlight Kid", "I Surrender" y la version de Blackmore del himno de la alegria de Beethoven.
Spotlight Kid
I Surrender
Con un cambio en los teclados, estando David Rosenthal en vez de Airey, Rainbow Graba su disco mas Exitoso "Straight Beetween The Eyes" donde conquisto el mercado americano y verdaderamente la banda Rockea mucho Más que en el anterior disco, gracias a un trabajo demoledor de Blackmore

Tearin' Out My Heart
Stone Cold
Con esto, Blackmore tenia todo claro en su master plan. Volver con Deep Purple mientras era popular en America, aunque lo haria en 1984, ya que graba un album mas con Turner, con cambio de baterista (ahora estaba Chuck Burgi) y grabaron "Bent Out The Shapes", un disco a mi gusto, innecesario, poco memorable con solo el gran hit de "Street Of Dreams"
Streets Of Dreams
Blackmore y Glover volvieron a Deep Purple, Los demas miembros siguieron sus carreras, contando con Turner en Purple para grabar Slaves & Masters en 1990. Blackmore se va en 1993 de Deep Purple por causas que ya contamos y re agrupa Rainbow con una nueva formacion con Doggie White (Voz), Greg Smith (Bajo), Paul Morris (Teclados) y John O'Reilly (Bateria), que luego seria reemplazado por Burgi, y este seria Reemplazado por John Miceli para la gira en USA, ademas en la banda estaban la corista Candince Night, futura esposa del guitarrista y el Harp - Player Mitch Weiss, y con ellos grabaron el muy cierto "Strange In Us All" es un gran disco. Blackmore, en su ultimo chizpazo de Hard Rock grabo 10 brillantes Riff y fogosos solos. Y Doogie White es un gran cantante. No tuvo exito ya que estaban todos con los chicos de Seattle y el BritPop. Blackmore, ya que no consiguio el exito esperado, en 1997 disuelve la banda para hacer musical celta con su Mujer Candince Night bajo el nombre de Blackmore's Night.
No habia otra imagen, sorry
Black Masquerade
Stand And Fight
Ficha Tecnica
Integrantes
Ritchie Blackmore - Guitarra
Ronnie James Dio (10/7/42) - (16/5/10) - Voz
Cozy Powell (29/12/47) - (5/4/98) - Bateria
Roger Glover - Bajo
Graham Bonnet (23/12/47) - Voz
Joe Lynn Turner - Voz
Jimmy Bain (19/12/47) - Bajo
Tony Carey (16/10/53) - Teclados
Don Airey - Teclados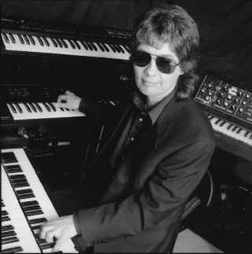 De los demas no hay fotos muchachos, los de los 90's no existen en google imagenes asi que si encuentran fotos, pasenlas.
Discografia
1975 - Ritchie Blackmore's Rainbow
1976 - Rising
1978 - Long Live Rock And Roll
1979 - Down To The Earth
1981 - Difficult To CUre
1982 - Straight Beetween The Eyes
1983 - Bent Out The Shapes
1995 - Strange Is Us All
En Vivo
1977 - On Stage
1986 - Fynyl Vynyl
1994 - Live In Germany 1976
2006 - Live In Munich 1977
Recopilaciones
1981 - The Best Of Rainbow
1997 - The Very Best Of Rainbow
2000 - 20º Century Master: The Millenium Collection
2003 - Catch The Rainbow: The Antology
2009 - Antology: 1975 - 1984