Hoy me levante como todos los dias cuando suena "Tear It Up" de Queen y "Burn" de Deep Purple al unisono a las 6:15. Bueno apago el despertador, busco mi ropa, me cambio mientras me acuerdo que River esta a un paso del descenso cuando bajo en 3 pasos las escaleras, voy al baño a higienizar mi rostro y escucho la llovizna de fondo. Entonces salgo y veo "Los Canales de Venecia" y dije "Concha de la lora es un sueño" pero no. porque no estaba ni Sofia Zamolo o Liz Solari conmigo o No era un viejo multimillonario que andaba con cuantas feminas se le cante mientras su esposa era una linda y simpatica rubia veinteañera, ni tampoco vivia en una mansion y tenia fotos con Robert Plant o Freddie Mercury o tener un CD de los mas grandes artistas del Rock zapeando todos juntos frente a mi. O no era un esbelto Nº 9 que se acostaba con las sexies periodistas deportivas, Si ustedes creen que todo muere en Sara Carbonero, Solo miren alguna edicion de Fox Sport Noticias en busca de Alina Moine o busquenla en Google y creeran en mis palabras. Si mis Queridos lectores, mis sueños son muy surrealistas pero antes de seguir llendome de tema, vamos a la realidad. La cuadra entera se estanco pero estos son "Los Canales De San Jose" pero lejos de ser pintoresco es como si fueran canales del Rio ese en India donde cagan, mean y tienen hijos todas esas cosas. Hay cosas raras y gente rara en todo el mundo. Incluso en este loco y exultante mundillo llamado Rock And Roll. Entre nuestro conocidos, estan Robert Plant y Mick Jagger pero hoy vamos a hablar del mas raro de todos, un tipo mas surrealista que mis sueños, mas deforme que nadie, mas camaleonico. Es el distinto del Rock, un tipo que puede ser "Hero" por un solo dia, si My Dears estamos hablando de David Bowie y hoy dejara su pomposidad por este blog.
Si, yo tampoco tenia la mas puta idea de que tenia un logo
David Bowie es el nombre artistico de este ingles nacido en Brixton en 1947 con el nombre de David Robert Jones. Hijo de una acomodadora de cine Irlandesa y un publicista de una ONG, Bowie se crio hasta los 6 en Brixton y en su escuela ya lo tildaban de niño superdotado y rebelde. Luego se muda a Bromley, donde a los 8 es reconocido como un buen corista y que su manera de tocar la flauta (Mmm La Flauta, estaba todo dicho su futuro) era anormal en cuanto a habilidades sexuales musicales. Tambien se lo reconoce como innovador en sus pasos de baile y todo esto a los 9 años de edad. El pequeño David se crio escuchando a Little Richard y a Elvis, mientras seguia aprendiendo a tocar instrumentos como el piano, el ukekele y el saxofon. Bowie fue a la escuela, en su ultimo año de primaria, con Peter Frampton, el cual era el hijo del director de esa escuela. Bowie entonces se dedico a estudiar arte,diseño y musica y aqui es donde tiene un famoso inconveniente en una pelea con un amigo, el cual casi pierde el ojo y le quedo la pupila dilatada por eso parece que tiene 2 ojos del mismo color.
No es igual a Gollum, el del Señor de Los Anillos
Asi Bowie se sumerge de lleno en el mundo de la musica y pasa por 5 bandas. "Kon - Rads", "King Bees", "Lower Third", "The Buzz" y "The Riot Squad" con todas ellas tuvo lanzamientos de Singles muy pocos exitosos. Asi decide en 1967 cambiarse el nombre a David Bowie y saca su 1º disco "David Bowie", donde mezcla Rock Psicodelico, Pop y Music Hall pero no tiene exito alguno.
Love You Till Tuesday
Luego pasa 2 años sacando un par de singles con otros nombre y posteriormente conoce y declara fascinacion por el bailarin Lindsay Kemp, el cual le enseño Teatro, Arte Dramatico, Avant - Grade, Mimica y Comedia. Kemp le presenta a Hermione Farthingale, la cual sale con David y forma un trio de FOlk que dura mucho.
Bowie parecia sin futuro en el Rock pero el 11 de Julio de 1969 cambia todo. "Space Oditty" sale como single y escala al Top 5, aunque el album "Space Oditty" a pesar de no ser un mal album, es un fracaso comercial. En este disco colabora el gran Rick Wakeman en los teclados.
Space Oditty
Memory Of A Free Festival
Y aca es igual a Mick Taylor de Los Stones. Por algo es el "Camaleon del Rock" no?
Para ese entonces conoce a Angela Barnett y se casa. Si, esta es la famosa "Angie" de Los Rolling Stones. Insatisfecho con su carrera solista (Donde su guitarrista de sesion era Marc Bolan por ese entonces), Bowie decide formar una banda con un ex compañero del Arts Lab, John Cambridge, baterista y luego contrataron al bajista Tony Visconti y al guitarrista Mick Ronson y se llamaban The Hype. Pero las peleas entre Bowie y Cambridge hacen que se vuelva a la idea de Bowie Solista y echando a Cambridge y a su manager, los cuales son reemplazados por Mick Woodmansey y Tony Defries respectivamente.
Asi sale en 1970 el 1º gran disco de Bowie, "The Man Who Sold The World", un disco que muestra a nuestro androgino protagonista rockeando tan duro como Sabbath y Zeppelin y tambien muestra las muchas variantes de musica que puede ofrecer David, con lo cual por algun lado te va a enganchar. Ronson revoluciona el sonido musical por su forma de tocar lo que hace de base para la creacion del Glam Rock. Y no me diagn nada acerca del cover de Cobain y compania incluso Bowie decia que la gente venia y le decia que era copado de su parte tocar canciones de Nirvana, Obviamente Bowie los mandaba a cagar cada vez que alguien le decia eso.
The Man Who Sold The World
The Width Of A Circle
En 1971, Bowie saca "Hunky Dory" un disco donde muestra cambios en lo musical y en donde se orienta definitivamente al Glam que tanto exito le trajo futuramente.
Changes
Life On Mars?
Pero ahora llega el cambio total. Bowie ya venia ideando un personaje que seria el personaje que marcaria para siempre a David: Ziggy Stardust. Ese personaje palido y pelirrojo con una feta de algo verde en el medio de la frente tomo la vida de Bowie por los siguentes 2 años (La vida de este señor es tan vertiginosa, que 2 años haciendo lo mismo es una eternidad)y en ese periodo grabo lo que son sus mejores discos. EL 1º es el mitico e historico "The Rise And Fall Of Ziggy Stardust And The Spider From Mars". La Obra Conceptual sobre la vida de Ziggy.
Ziggy Stardust
Rock N' Roll Suicide
Pero Ziggy sigue con vida y va a America en "Aladdin Sane" otro gran disco y el ultimo donde participa Mick Ronson.
Cracked Actor
Panic In Detroit
Vinimos a conquistar el Rock And Roll
Bowie graba "Pin Ups" un disco donde hace versiones de sus canciones preferidas. Este si es el ultimo album con las arañas de Marte y pasaremos a una nueva metamorfosis musical de David.
I Can't Explain
See Emily Play
Por otro lado, Bowie en esa epoca fue productor de varios discos de otros artistas o bandas, como Mott The Hopple y Lou Reed.
All The Young Dudes
Walking On The Wild Side
La Trilogia del Glam
En Fin, siguiendo con su carrera aca es donde he dejado de seguir a Bowie, su parte Plastic Soul me parece mortalmente aburrida y los siguientes discos solo tienen un par de temas mas o menos zafables. Bueno, empezamos con el 1º de ellos "Diamond Dogs".
Rebel Rebel
El 2º es "Young American" con "Fame" la famosa cancion co-escrita con John Lennon. Estamos en 1975
Fame
Me parece que David se le fue la mano y por quien suspira, si ustedes ven Lennon no la tiene tan cerca del bulto.
Y por ultimo el "Station To Station" en 1976. Aqui es donde empieza la etapa del "Thin White Duke" y el Krautrock
Station To Station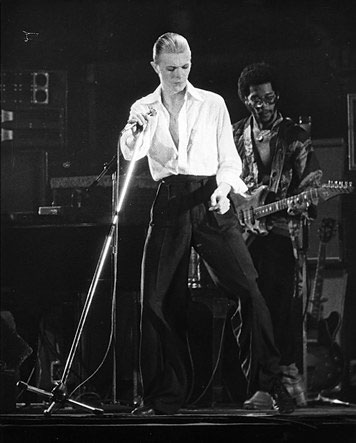 Se lo podria llamar el "Duque Cocaina" pero no fue asi.
En 1976 tambien arranca una nueva etapa en la carrera de Bowie. La llamada "Berlin Trilogy", una serie de 3 albums donde se junta con Brian Eno y graba para muchos 3 de los mejores albums de todos los tiempos. Para mi no, pero vamos a describirlo medianamente. "Low" el 1º de ellos, es donde se incrementa la tendencia de musica Alemana - Nazi que tanto apasiona a nuestro androgeno protagonista pero aqui le meten el Art Rock que tocaba Eno en Roxy Music y varios Instrumentales.
Be My Wife
el 2º es el archi conocido "Heroes", un album parecido al anterior pero mejor en ciertos aspectos, como la inclusion de Robert Fripp, guitarrista de King Crimson, en el disco y obviamente la genial, majestuosa y mitica "Heroes" la mejor cancion de Bowie.
Heroes
Luego llega "Lodger" en 1979 y cierra esta peculiar colaboracion.
Look Back In Anger
Bowie abre los 80's con "Scary Monsters (And Super Creeps)" y el hit "Ashes To Ashes" y la colaboracion de Pete Townshend "Because You're Young"
Ashes To Ashes
Because You're Young"
Bowie empieza a repuntar comercialmente con su colaboracion con Queen en el Hit "Under Pressure" con un memorable dueto con Freddie Mercury, el cual da una de las mas grandes performances de su vida.
Under Pressure
Bowie: "Hey, Que Tal si la cantamos en el Live Aid Fred?"
Mercury: No, Darling, yo solo me robare el show.
La cuestion es que los criticos Adoran todos los anteriores trabajos, pero la gente se que con el "Let's Dance" de 1983. Es un disco muy Pop que muestra como Bowie se vendio terriblemente, pero el solo hecho de que Stevie Ray Vaughan aparezca en los creditos como guitarrista principal da pie a escucharlo. Tambien es el disco mas vendido de Bowie.
Let's Dance
Modern Love
Bowie:"Stevie, seras el proximo Hendrix si sigues conmigo"
SRV: "Nah, prefiero serlo por mi mismo antes de ser un guitarrista Pop"
En 1984 sale "Tonight" donde hay muchas canciones escritas con Iggy Pop, gran amigo de Bowie, quien le produjo muchos discos de Iggy como solista, y una participacion de Tina Turner.
Dancing With The Big Boys
Tonight
Luego se junta con su muy intimo amigo Mick Jagger grabaron un cover de "Dancing In The Street"
Dancing In The Street
Bowie: Hey Mick, ¿nosotros que vendriamos a ser?, si te montaste a Angie y despues estuvimos juntos
Jagger: Y bueno David, You Know "I Can't Get Nooooo... Satisfaction NEVER!!"
En 1986 actuo en la pelicula Labyrinth y grabo el soundtrack de esta. No les recomiendo ninguna de las 2 cosas y el look de Bowie para la pelicula es desagradable a mas no poder.
En 1987, Bowie hace uno de sus peores trabajos grabados "Never Let Me Down" es un trabajo Pop Rock feo y encima trae a Peter Frampton como el guitarrista principal del Disco.
Never Let Me Down
Pero en 1988, Bowie sorprende a todos cuando formar a un grupo llamado Tin Machine en 1988 y donde se acerca mucho al Hard Rock. Repasemos susu trabajo. el 1º "Tin Machine I" se estreno en 1989
Under the God
Heaven's In Here
El 2º "Tin Machine II salio en 1991.
You Belong In Rock And Roll
Baby Universal
En 1993, luego de participar del Cocierto Tributo a su amigo Freddie Mercury Bowie se separa de Tin Machine y abre su carrera solista en los 90's con "Black Tie White Noise". En donde participa por ultima vez en su disco y en la musica el genial Mick Ronson, que muere de cancer en 1993. Aqui empieza lo peor que graba Bowie en toda su carrera tocando Hip Hop (AHHHHHH), Electronica (Esta era obvia es un robot) y Rock Industrial (DIOS!!!).
I Feel Free
Ese año graba el terrrorifico soundtrack de "The Buddah Of Suburbia".
Buddah Of Suburbia
La vuelta con Eno en 1995 con el asqueroso "Outside"
Pero llega lo peor: Earthling de 1997. INESCUCHABLE
"Hours..." es el disco que termina el milenio de Bowie y tambien los 90's y mejora algo a lo anterior.
Bowie abre el nuevo milenio con "Heathen" en 2002 su mejor disco dese el "Let's Dance" donde Participa Pete Townshend, Dave Grohl, Tony Levin y el tecladista de Dream Theater "Jordan Rudess".
Slow Burn
I've Been Waiting For You
Su ultimo disco hasta la fecha es "Reality" en 2003. Un disco normal.
Reality
Y Un Día Volvió. Tras 10 años de exilio Musical. David Bowie volvió a sacar un disco. "The Next Day" Es quizas el mejor Disco del año , Top 10 de La Decada que recien va por su 4to año y el mejor disco de Bowie en 30 años (Desde El Let's Dance precisamente). Discazo Rockero, Ganchero y con ese Estilazo que el Duque Blanco solamente sabe dar.
The Stars (Are Out Tonight)
Where Are We Now?
Ficha Tecnica
Bueno, David es un artista solista aunque ha tenido varios colaboradores en su carrera. No los pondre a los Mick Ronson, Tony Visconti, Mike Gardon o Mick Woodmansey. Se veran en los discos que se comenten.
Discografia
1967 - David Bowie
1969 - Space Oditty
1970 - The Who Sold The World
1971 - Hunky Dory
1972 - The Rise And Fall Of Ziggy Stardust And The Spiders Of Mars
1973 - Aladdin Sane
1973 - Pin Ups
1974 - Diamond Dogs
1975 - Young Americans
1976 - Station To Station
1977 - Low
1977 - "Heroes"
1979 - Lodger
1980 - Scary Monsters (And Super Creeps)
1983 - Let's Dance
1984 - Tonight
1986 - Labyrinth (Soundtrack)
1987 - Never Let Me Down
1989 - Tin Machine I (Con Tin Machine)
1991 - Tin Machine II (Con Tin Machine)
1993 - Black Tie White Noise
1993 - The Buddah Of Suburba (Soundtrack)
1995 - Outstanding
1997 - Earthling
1999 - Hours...
2002 - Heathen
2003 - Reality
2013 - The Next Day
En Vivo
1974 - David Live
1978 - Stage
1983 - Ziggy Stardust: The Motion Picture
1992 - Tin Machine Live: Oh Vey, Baby
1994 - Santa Monica '72
2008 - Glass Spider Live
2009 - VH1 Storytellers
2010 - A Reality Tour
Recopilaciones
1970 - The World Of David Bowie
1973 - Image 1966 - 1967
1976 - ChangesOneBowie
1980 - The Best Of Bowie
1981 - ChangesTwoBowie
1982 - Bowie Rare
1983 - Golden Years
1984 - Love You Till Tuesday
1984 - Fame And Fashion
1989 - Sound + Vision
1990 - ChangesBowie
1991 - Early On (1964 - 1966)
1993 - The Single Collection
1995 - Rarest One Bowie
1996 - The Deram Antology 1966 - 1968
1997 - The Best Of David Bowie 1969/1974
1998 - The Best Of David Bowie 1974/1979
2000 - Bowie At The Beeb
2001 - All Saint
2002 - Best Of Bowie
2003 - Club Bowie
2005 - The Collection
2005 - The Platinum Collection
2007 - The Best Of David Bowie 1980/1987
2008 - Select