Se esta terminando este mes de Agosto. Y estoy tratando de terminar la mayoria de Los Post que pueda, Pude terminar varios Post que creia que no haria. En Fin siguiendo con mi cronograma, mientras me recupero de Mi Tos/Cancer segun mis compañeros de Escuela y del dolor de Piernas que me causa "Correr" 15 minutos media cancha de 11 y luego jugar al futbol. Tampoco te duele en el momento, pero hoy me levante y si duele. Tambien duele saber que mi carrera como Tecnio en Informatica es dura y larga. Se que cobrare bastante cuando trabaje,pero saber que a los cajeros de McDonald's cobran 1400 pesos por 3 dias. mientras yo no tengo nada de dinero por pasar 8 horas diarias en la escuela es muy frustrante. Asi que estoy pensando en ganar dinero de alguna forma. Excepto yendo a trabajar en McDonald's o Robar. Asi que en estuve viendo que negocios hay mas en las avenidas y me sorprendí al ver muchisimos negocios de Lenceria. Algo me estoy perdiendo, Cada cuadra de la Avenida 9 de Julio de Lanus hay de 1 a 4 negocios, donde estan algunas de las chicas que pasan por el Blog. Pero no pienso poner un negocio de Lenceria, ya que tiene 2 grandes prejuicios si un hombre tiene un Negocio de Lenceria: O es Puto, O es un pajero y destinado a Morir como el brasuca que se Mato literalmente a Pajas (Se clavo 42 pajas y tenia millones de Videos y Revistas Porno) y la verdad no quiero Morir asi, ya lo he comentado que quiero morir victima de Liz Solari y su meneo de Caderas. Porque esa es la mejor manera de Morirse posible.
Eso si, que si yo estuviera en Pareja con Liz, ni por todo el Dinero del Mundo seria amigo de Eric Clapton. Slowhand sera el guitarrista mas grande vivo, Pero un completo Hijo de Puta como amigo. Y la verdad no quisiera estar Yo con Liz mirando como Slowhand toca su guitarra mientras coquetea con Liz, ya que le tendria que hacer un triple enema con su Stratocaster y hacerlo sentir como cuando toco por 1º vez con el Fucking Negro de Hendrix. En fin, siguiendo mi cronograma Bloguero traigo Blues Rock y quien mejor que Slowhand para mostrarnos este Genero en su por momentos brillante Carrera Solista.
La carrera Solista de Clapton es todo lo que hizo Post Cream, por ejemplo Blind Faith, el monstruoso supergrupo con Steve Windwood, Ginger Baker y Ric Grech. Por Entonces Bruce se va del grupo y Clapton llama a Windwood y a Grech y forma Blind Faith con quien graba para muchos el album mas monstruoso del Blues Rock, "Blind Faith"
Had To Cry Today
Presence Of The Lord
¿Saben que Clapton y Windwood tienen la misma Edad?
Luego de varias razones, Clapton larga el grupo y se va con Yoko Ono es algo tan asqueroso que no reproducire en el Blog, pero luego de varias dosis de Heroina y Alcohol, mas una mirada a fotos de la mujer de su mejor Amigo George Harrison Pattie Boyd. Eric decidio dejar su trabajo en Delaney & Bonnie, y luego de grabar en algunos discos de sus amigos. Slowhand decidio formar Derek & The Dominos y grabar lo mas brutal, asesino y Monstruoso que haya salido de Los dedos de Eric: "Layla And Other Assorted Love Songs". Una Obra Maestra Hija de Puta Llevada hasta el extremo por el mas aplastante Slide Guitar jamas escuchado interpretado por el maestro del Slide Duane Allman. La Heroina creaba otra obra maestra musical, esta vez ayudada por el talento de Duane y una buena dosis de Fotos Intimas de Pattie Boyd, que Clapton miraba durante 3 horas antes de grabar cada tema y salia a tocar su guitarra como si fuera las muy buenas curvas de la Blonda mujer de George. Podes sentir como cada solo es una penetracion de Slowhand a Pattie. Por Dios solo escuchen este disco.
Simplemente: GRACIAS
Layla
Little Wing
Y como venia la cosa, paso lo que tenia que pasar. Clapton se vuelve completamente Loco por Pattie, a la cual Harrison apostaba con sus amigos y generalmente ella y el eran Swingers con Ronnie Wood y su mujer, y por que no la Mujer de Ringo, pasada por muchisimas manos del Rock Ingles. La cuestion es que con Pattie en Jamaica con George, Jimmy Page, Joe Cocker y Ringo. Clapton vivia atormentado y ahogado en Whisky en USA, pero igual decidio grabar su 1º album concretamente como solista en 1974: "461 Ocean Boulevard" no es un disco muy bueno pero tiene una joyita llamada "I Shoot The Sheriff". Esta cancion de Bob Marley fue versionada por Slowhand, y El Reggae le debe muchisimo a Clapton, ya que popularizo el Reggae mundialmente con este tema. Mientras tanto George y Eric se seguian viendo y conversaban bastante sobre el tema Pattie.
Harrison: Ok Eric, acepto que tengas a Pattie a cambio de un Solo para mi nuevo album
Clapton: Bueno George (Clapton toca un solo abismal), Damela YA!!!
Harrison: Espera Eric, tu estas detras de Rod Stewart Jagger y Page
Clapton: Maldita Sea, Dame un poco de Heroina.
I Shoot The Sheriff
Al Año Siguiente, Eric ya consiguió a Pattie pero su vida no iba a Mejorar. Asi y todo fue a Jamaica, y ademas de traerse unos pulmones Destrozados grabo "Theres's One In Every Crowd", un disco que no cambia mucho al anterior.
No me jodan con Mejor Musica, tengo mejores cosas que hacer Chicos
The Sky Is Crying
Luego saca "No Reason To Cry", un trabajo bueno, destacable solo por sus colaboraciones, Ron Wood, Bob Dylan y The Band participaron en la grabacion, pero otra vez Clapton quedaba mal parado siendo el Lider. Y se demostraba que el mejor Clapton salia cuando tenia a alguien mas por encima de el o cuando era un grupo.
All Our Past Times
Pero Aqui cambia todo. En 1977 Clapton edita "Slowhand". Su trabajo mas brutal realizado hasta la fecha como solista, junto al Unplugged. 3 de las mejores canciones de este gran Guitarrista Adicto e Idolo del Blog se encuentran en este disco: "Cocaine" de JJ Cale, "Wonderful Tonight" Obra de Pattie Boyd (Compone mejor que muchos Pattie ya que de ella salieron "Something y "Layla" tambien) y "Lay Down Sally" un gran exito.
Cocaine
Wonderful Tonight
Sin Heroina, No Hay Show
y aca empieza una muy oscura etapa del guitarrista. Esta muy mala racha empieza con "Backless" en 1978.
Promises
Esta racha continua con "Another Ticket", con una portada horrible y un Clapton que se va de Polydor
Clapton Levanta un poco con "Money & Cigarrettes" con una portada genial con Clapton fumando al lado de una Strato derretida, aunque solo queda en una genial portada. El Disco no es muy interesante
I've Got A Rock And Roll Heart
Luego de problemas con Pattie, que empezaron por los rumores de que Clapton tenia una relacion con su corista Yvonne Harris y una actuacion buena en el Live Aid. Clapton empieza una serie de albums con la colaboracion de Phil Collins, Gracias al Señor, como Baterista. El 1º de ellos es "Behind The Sun" de 1985
Forever Man
She's Waiting
Collins: Bueno Eric, ya tengo la formula para tu vuelta al exito.
Clapton: No me querras hacer un artista Pop, No Phil?
Collins: No, solo modernizar tu sonido
Clapton: Mira Pelado de Mierda, mientras no te acerques a un microfono todo bien
El exito le llego a Clapton, y fue reinvindicado con "August", cuya cancion "It's In The Way That Use It" fue Nº 1 en UK. Ademas Tina Turner canta un tema en el disco
It's In The Way That Use It
Tearing Us Apart
Y Clapton vuelve definitivamente con su ultima colaboracion con Collins en 1989. "Journeyman" es el mejor album de Slowhand en los 80's y trae sus ultimos grandes exitos "Bad Love" y "Pretending"
Pretending
Bad Love
Luego de este disco, Clapton se une en una gira con Stevie Ray Vaughan, el nuevo Monstruo de las 6 cuerdas. Pero hace un poco mas de 21 años en 1990 (Exactamente el 27 de Agosto, osea el Sabado). Clapton y Vaughan tenian que viajar a un lugar. Clapton iba a viajar en helicoptero, pero se lo deja a Stevie, quien estaba mas apurado. Lamentablemente SRV muere ese dia ya que el Helicoptero se cayo. Por otro lado Clapton se salva de Milagro de morirse y en un clima muy triste cae en Argentina en 1990. Pero lo peor le iba a Venir.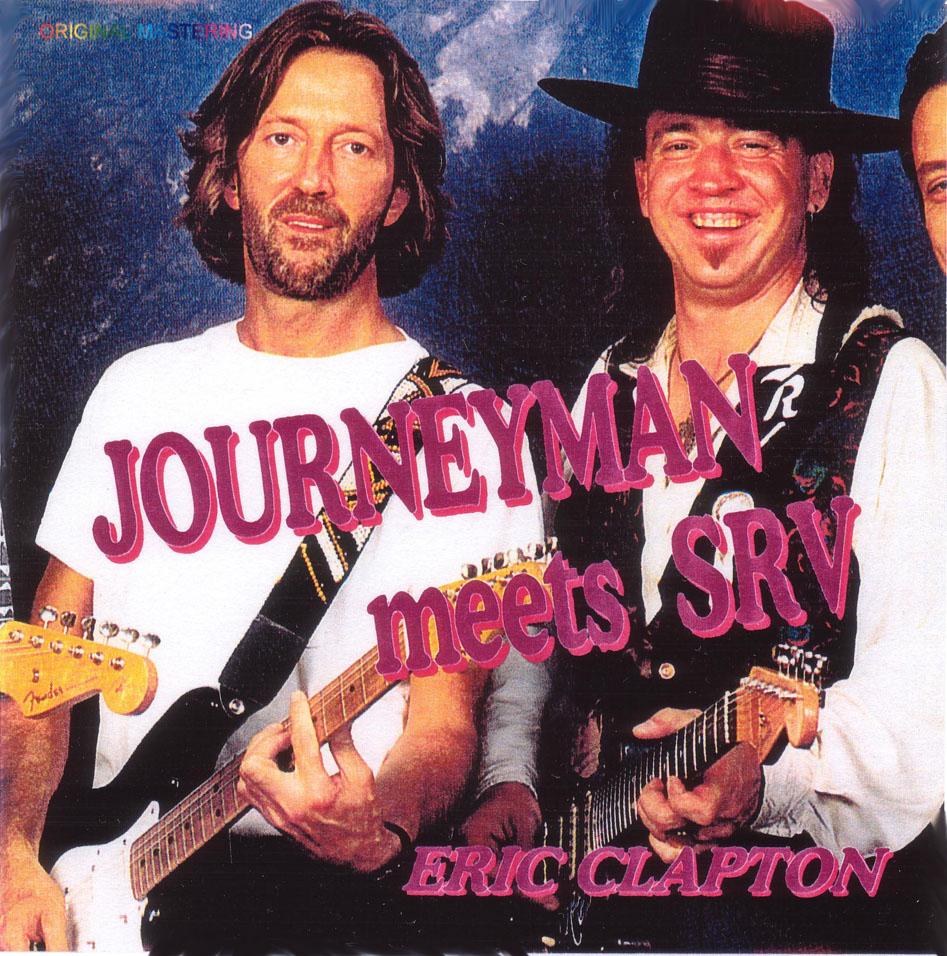 Tenias que Morir Vos Eric, Pero ya se porque viviste
Eric ya se habia separado de Pattie porque descubrio el hijo que tenia con Yvonne. Pero todavia le podia pasar algo peor a Slowhand. Su pequeño hijo Connor muere en Marzo de 1991 cayendose de piso 53 de un edificio de NY. Clapton estaba devastado y compuso su ultimo gran aporte a la Musica: "Tears In Heaven", que aparece en el SOundtrack de la pelicula "Rush". Pero su version Inmortal esta en algo inigualable como lo fue el MTV Unplugged de Eric con la Monstruosa Version de Layla
Tears In Heaven
Layla
Luego Eric entra en su etapa de Blues Purista, empezando con el Album de Covers "From The Cradle".
Hoochie Coochie Man
Luego de 4 años tocando en vivo, Clapton vuelve al estudio con Pilgrim. Un trabajo discreto, con criticas repartidas y es el ultimo disco de Eric en los 90's
My Father's Eyes
La Vida de un Blusero
El nuevo milenio comienza con Slowhand junto al gran B.B King grabando "Riding With The King" un muy buen disco.
Riding With The King
Key To The Highway
Clapton sigue su camino en Solitario y continua en 2001 con "Reptile". Su 1º trabajo con Billy Preston en los teclados
Reptile
I Ain't Gonna Stand For It
Luego de sacar el disco en vivo "One More Car, One More Rider" Clapton vuelve al estudio y decide grabar todas canciones de su gran idolo Robert Johnson. Y asi sale el muy bueno "Me And Mr Johnson"
Travelling Riverside Blues
Love In Vain
Al Año Clapton vuelve al estudio y graba "Back Home", Donde tambien trabaja Steve Windwood en los sintetizadores
Loves Comes To Everyone
Luego vuelve a sus discos con colaboraciones, en este caso con J.J. Cale, con quien grabo "The Road To Escondido". Tambien es el ultimo disco que grabo Billy Preston, ya que murio en 2006.
Hard To Thrill
Y llegamos a 2010 para el ultimo disco que ha editado Slowhand. "Clapton" es un gran disco y tambien nos deleita cada vez que organiza los Crossroad y junta a los grandes guitarristas de USA.
Autumm Leaves
Run Back To Your Side
Ficha Tecnica
Discografia
1969 - Blind Faith (Con Blind Faith)
1970 - Eric Clapton
1970 - Layla And Other Assorted Love Song
1974 - 461 Ocean Boulevard
1975 - There's One In The Crowd
1976 - No Reason To Cry
1977 - Slowhand
1978 - Backless
1981 - Another Ticket
1983 - Money & Cigarrettes
1985 - Behind The Sun
1986 - August
1989 - Journeyman
1994 - From The Cradle
1998 - Pilgrim
2000 - Riding With The King
2001 - Reptile
2004 - Me And Mr. Johnson
2005 - Back Home
2006 - The Road To Escondido
2010 - Clapton
En Vivo
1969 - Live Peace In Toronto (Con John Lennon y The Plastic Ono Band)
1973 - In Concert
1973 - Eric Clapton's Rainbow Concert
1975 - E.C Was Here
1980 - Just One Night
1991 - 24 Nights
1992 - Unplugged
1994 - Live At The Filmore
2002 - One More Car, One More Rider
2009 - Live From Madison Square Garden
Recopilatorios
1972 - The History Of Eric Clapton
1972 - Erci Clapton At His Best
1981 - Steppin' Out
1982 - Time Pieces: The Best Of Eric Clapton
1983 - Time Pieces Vol II: Live In The Seventies
1984 - Backtrackin'
1987 - The Best Of Eric Clapton
1988 - Crossroad
1991 - Story
1992 - Stages
1994 - The Cream Of Eric Clapton
1996 - Crossroad 2: Live In The Seventies
1999 - Blues
1999 - Clapton Chronicles: The Best Of Eric Clapton
2007 - Complete Clapton