El Siguiente post no es para meter el chivo. Es que todo se dio junto. Y Este Mes por alguna razon se relaciona todo. Por supuesto, las bandas del Mes. Que se relacionan con Van Halen, porque ha sido una gran fuente de inspiracion para el 99% de las bandas de Hard Rock/Heavy Metal De Los 80's. Van Halen que se relaciona con The Kinks porque gracias a su cover de "You Really Got Me" saltaron a la fama y reavivaron la carrera de la Banda de Los Hermanos Davies y Van Halen se relaciona con la banda protagonista de hoy, Black Sabbath, por haber sido sus teloneros en la ultima parte de La Era Ozzy y dejarlos muy mal parados debido al estado deplorable de Ozzy. Pero del Sabbath que vamos a Hablar hoy es del Sabbath de Dio, ustedes saben que el 16 se cumplieron 2 años de la muerte de Ronnie y que el 19 Sabbath (Con Ozzy y sin Ward) volvieron a los Escenarios a pesar de que Tony Iommi se recupera de un Cancer (Afortunadamente muy bien). HOy tocaba hablar de una cancion de Sabbath y la elegida no es nada mas ni nada amenos que la colosal "Heaven And Hell" La Mejor Cancion de Sabbath, la mas epica y faraonica.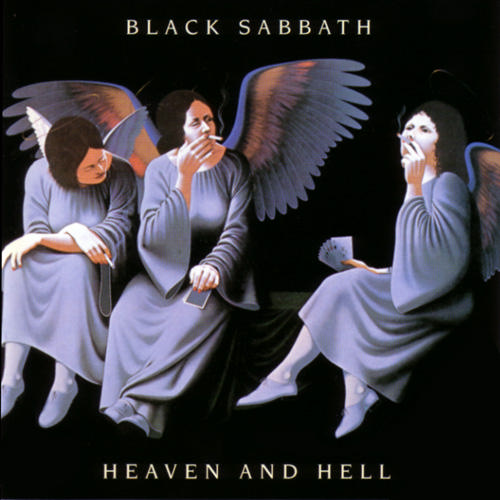 Ya se que es la tapa del Disco Bitches (?)
Escrita mayoritariamente por Tony Iommi y Ronnie James Dio, pero acreditada tambien a Geezer Butler y Bill Ward, es la cancion que da titulo al 1° Disco de Dio en Sabbath, editado en 1980. Es quizas, la cancion mas famosa de Sabbath con Dio y a menudo considerada la mejor de esa era y una de las mejores de toda su historia. La Cancion es conocida por su potente Riff, sus cambios de ritmo y el Solo de Guitarra de Tony Iommi (Quizas el mejor de toda su carrera). Amen de su letra. La Cancion se Divide en Intro, 1° Parte, Parte Angelical 2° Parte, Solo de Guitarra, 3° Parte y Outro.
Intro (0:00 - 0:33)
Los Power Chords de Iommi te explotan desde el minuto 0 de la cancion con ese Riff Musculoso, Infernal y Bestia acompañado por la tremenda Base de Ward y... Geoff Nicholls, si Geezer Butler solo toca el bajo en "Neon Knights" en este disco. Aunque en el disco se lo acredite a el. Luego la guitarra de Iommi calla y solo queda esegran bajo sonando hasta que entra Dio y empieza la...
1° Parte (0:33 - 2:17)
Dio, con su colosal voz, nos dice que le cantemos una cancion, que somos cantantes. Que le hagamos un mal, somos portadores del mal, que el diablo nunca es un creador, y cuanto menos das, sos mas aprovechadores. Y Que es asi, una y otra vez. Es el Cielo y el Infierno.
Tambien nos dice que los amantes de la vida no son pecadores, que el final es solo un comienzo, y que cuanto mas cerca estes de la verdad, mas pronto sabras que estas soñando, luego entra el estribillo con Ronnie a tope y da paso al.
Puente Angelical (2:17 - 2:39)
Unos Coros Angelicales de Dio apoyado por los Sintetizadores de Nicholls y una demostracion Vocal HUmillante de Ronnie sirve de puente para la...
2° Parte (2:39 - 3:18)
Un Riff Bestial de Iommi corta lo angelical de la anterior parte, con un cambio de ritmo genial y un Dio mas agresivo que nos dice que cuando creas que es real, es ilusion, y que cada momento de verdad es confusion en la vida. Que el amor puede ser la respuesta, pero que nadie se sangra por ella, y es asi, una y otra y otra y otra vez...
Solo de Guitarra (3:18 - 4:45)
Iommi entra con esos licks infernales caracteristicos de el, todo de manera lentamente y acechante, pasando por los coritos angelicales de Dio y luego Ward le mete caña a su bateria y Iommi vuelve todo Bestia a una velocidad genial que desemboca en la....
3° Parte (4:45 - 5:51)
El Mejor Solo de Iommi desemboca en un Dio tirando mucha posta junta y a los pedos con la inhumana Base Nicholls-Ward dando palo a lo loco. Ronnie nos dice que ellos dicen que la vida es como una calesita, que gira tan rapido que tenes que agarrarte bien. Que El Mundo esta lleno de Reyes y Reinas que te tapan los ojos y roban tus sueños. Eso es el Cielo y El Infierno. Y Que te cuenta que el Negro es en realidad Blanco, que la Luna es el Sol de Noche y que cuando caminas por salones de oro debes ser capaz de resistirte a oro que cae.Eso es El Cielo y El Infierno, Por ultimo nos dice que no seamos tonto, que nos sacrifiquemos por la respuesta, que la busquemos. Luego de que calla Dio, Iommi vuelve con un solo directo a la Yugular que se para de golpe y deriva en el...
Outro (5:51 - 6:58)
El Outro Consiste en una Guitarra Acustica tocando una melodia intrigante hasta que se apaga el sonido de una cancion que perdurará en la historia del Rock.
Letra
La letra de este tema es una de las letras mas famosas en el ambiente artistico. Basicamente es el contraste de las cosas buenas y malas, pero ya que tiene varias interpretaciones, lo dejamos a su eleccion
Sing me a song, you're a singer
Do me a wrong, you're a bringer of evil
The devil is never a maker
The less that you give, you're a taker
So it's on and on and on, it's heaven and hell
Oh well
The lover of life's not a sinner
The ending is just a beginner
The closer you get to the meaning
The sooner you'll know that you're dreaming
So it's on and on and on, oh it's on and on and on
It goes on and on and on, Heaven and Hell
I can tell
Fool, fool
Oh uh
Yeah, yeah, yeah
Well if it seems to be real, it's illusion
For every moment of truth, there's confusion in life
Love can be seen as the answer, but nobody bleeds for thedancer
And it's on and on, on and on and on and on and on and on andon
They say that life's a carousel
Spinning fast, you've got to ride it well
The world is full of kings and queens
Who blind your eyes and steal your dreams
It's heaven and hell, oh well
And they'll tell you black is really white
The moon is just the sun at night
And when you walk in golden halls
You get to keep the gold that falls
It's heaven and hell, oh no
Fool, fool
You've got to bleed for the dancer
Fool, fool
Look for the answer
Fool, fool, fool
En Español
Cantame una cancion, eres cantante.
Perjudícame, eres portador del mal.
El diablo jamás crea.
Cuanto menos das, mas aprovechado eres.
Y asi es una y otra y otra vez.
¡Es el cielo y el infierno!Oh, bien.
El que ama a la vida no peca.
Quien termina solo esta empezando.
Cuanto mas te acerques a la verdad,
antes sabras que estas soñando.
Y asi asi es una y otra y otra vez,
oh, asi es una y otra y otra vez.
Sigue una y otra y otra vez.
¡cielo e infierno! Lo puedo contar....
Tonto, tonto.
Bien, si parece real, es una ilusión,
por cada momento de certeza,
hay confusion en la vida.
El amor podria ser la solucion,
pero nadie siente compasion.
Y asi es una y otra y otra vez,
y una y otra y una y otra y otra vez.
Dicen que la vida es un carrusel
que gira veloz y te tienes que sujetar bien.
El mundo esta repleto de reyes y reinas
que ciegan tus ojos para robarte los sueños.
¡Es el cielo y el infierno! Oh, bien.
Y te diran que el negro es en realidad blanco,
que la luna es el Sol de noche.
Y cuando entras en salones dorados
eres capaz de resistir el oro que fluye.
¡Es el cielo y el infierno! Oh, no.
Tonto, tonto.
Tienes que sentir compasion.
Tonto, tonto.
Busca la respuesta.
Tonto, tonto, tonto.
En Vivo
La Cancion ha sido tocada por Sabbath siempre desde que salio publicada, ya sea con Dio o con sus otros cantantes como Ian Gillan, Glenn Hughes, Ray Gillen y Tony Martin, salvo en la reunion con Ozzy. Mientras que Ronnie en su banda DIO la tocaba muy a menudo tambien, y tambien la tocaron cuando se juntaron Iommi, Butler, Appice y Dio bajo el nombre de Heaven And Hell.
Gira Black And Blue 1980
Live Evil 1981
Live Montreal 1983 (Con Gillan)
Live Detroit 1986 (Con Hughes)
Live Montreal 1986 (Con Gillen)
Live Moscow 1989 (Con Martin)
Live Costa Mesa 1992 (Con Rob Halford reemplazando a Dio)
Live New York 1992
Live Holland 1983 (DIO)
Live Philadelphia 1986
Holy Diver DVD 2006
Live Argentina 2007 (Heaven And Hell)
Ficha Tecnica De La Cancion
Nombre: Heaven And Hell
Duracion: 6:58
Genero: Hard Rock, HEavy Metal
Productor: Martin Birch
Discografia: Warner Bros.
Fecha De Grabacion: 1979
Salida Al Mercado: 25/4/80
Artistas: Black Sabbath