Arranco el Frio Heavy en Argentina. Empezamos a sacar los camperones, guantes, bufanda, etc. Encima vino duro porque todavia es Otoño y se le pegan las lluvias, sumenle un buen viento, temperaturas bajo cero y yo esperando 10 minutos el Colectivo en una esquina y tienen la escena perfecta de una persona que no tiene un chofer que lo lleve en un Roll Royce hasta la puerta de la escuela.
Proximamente: Remiseria Vince Neil. La 1° En Incluir Minibares Y Chicas En Todos Sus Autos
Este Blog da tantas ideas geniales que de hacerse realidad el mundo seria un lugar Sextasticamente Genial. Que si yo fuera Presidente, Bon Scott y Vince Neil tendria su cara en los billetes y Ritchie Blackmore revoleando su Stratocaster estaria en las monedas. Y las señoras tendrian una estufa con forma del tronco de Chris Cornell.
Hotter Than Hell Baby!
Chris Cornell era el Cock Rocker en ese deprimente mundo del Grunge. El no se deprimia, el si trataba de tirarse minitas cantandole al oido o hipnotizandolas con su torso tallado a mano. Pero ademas de ser un Sex Symbol, Chris es quizas el mejor cantante que ha salido en los 90's con una voz salida del mismisimo averno. Una Version incluso mas potente de Robert Plant y agudos imposibles a los Gillan sumandoles unos graves devastadores tenemos a la persona mas talentosa del movimiento venido de Seattle. Soundgarden es quizas la banda mas Grunge de toda. Definitivamente nunca buscaron fama alguna y no estaban interesados en hacer un sonido que le agrade a la gente pero nosotros, los entendidos en musica supimos apreciar si. Asi que hoy se daran una vuelta por el blog.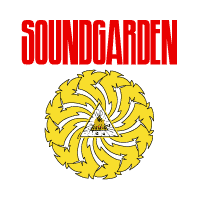 Su historia empieza Seattle en 1984 con Chris Cornell y el bajista Hiro Yamamoto en una banda llamada The Shemps. Yamamoto se va de la banda y en su reemplazo llega el guitarrista Kim Thayil ocupando el bajo. La banda de todas formas termina separandose y Cornell volvio a buscar a Yamamoto para formar una banda y invitaron a Thayil. Asi formaron Soundgarden con Yamamoto en Bajo, Thayil en Guitarra y Cornell en Bateria y Voz. Luego Cornell se encargaria solo de la voz y en la bateria estaria Scott Sundquist y desde 1986, y definitivamente, el Drum Kit sera ocupado por el Sr Matt Cameron. Asi quedo ensamblada la 1° Formacion de Soundgarden.
Chris: "Che Yamamoto, Es Verdad que tu novia tiene la raya de su cosita en horizontal"
Hiro (Enojado): "jksjasjkdhljdflksadkljlsjdadakldadaalskdjasld"
Chris: "Que Paso TakaTaka?, Antes Eras Chevere"
Asi logran firmar contrato con Sub Pop y sacan 2 EP "Screaming Life" y "Fopp" y en 1988 sacan su debut con el sello SST "Ultramega OK" que no es el debut soñado por asi decirlo. Es una mezcla entre la influencia Led Zeppelin/Black Sabbath y una total anarquia Punk que resulta incomoda. Asi y todo trae un clasico de la banda como "FLowers"
Flowers
Smokestack Lightning
LA banda firmo contrato con A&M para su 2° Disco "Louder Than Love" de 1989. Donde se ve una mejoria de lo que fue su debut, pero todavia faltaba algo para lograr la perfeccion.
Hands All Over
Big Dumb Sex
Ni bien empezo la gira, Yamamoto se va de la banda, frustrado y es reemplazado en la gira por el ex Nirvana Jason Everman. Quien al final seria echado de la banda al finalizar la gira. Las malas noticias llegaron cuando esa gira termino, Andy Wood, lider de Mother Love Bones y gran amigo de Chris murio de sobredosis el mismo dia que Soundgarden llego de la gira. En Forma de rendirle tributo a su amigo muerto, Chris agarro a Matt Cameron, a 2 miembros de Mother Love Bone, el Bajista Jeff Ament y el Guitarrista Stoner Gossard y contrato al guitarrista Mike McCready y al vocalista Eddie Vedder. Y Formo la banda "Temple Of The DOg" que empezo a grabar quizas unos de los discos mas aposteosicos del Grunge y los 90's. Mientras tanto Soundgarden sacaba el compilado de EP "Screaming Life/Fopp" en 1990.
Haunted Down
Kingdom Of Come
El Proyecto de Temple Of The Dog vio la luz en 1991 y es quizas el Mejor Disco de todos los editados por los Grungies, por lo menos le da 1000 vueltas a la supuesta obra maestra de ese año que es "Nevermind". La Performance Vocal de Cornell no es humana.
Say Hello 2 Heaven
Hunger Strike
MIentras que Soundgarden, con Ben Shepherd en el Bajo desde ahora, no se queda atras y saca su obra MAestra "Badmotorfinger"
Jesus Christ Pose
Slaves & Bulldozers
"Si Ahora no me vienen las chicas que le vienen a Bon Jovi, me suicido Period!"
Y luego de girar con grandes como los Guns N' Roses, Skid Row y Red Hot Chili Peppers, la banda volvio al estudio y grabo su album mas aclamado por la critica "Superunknown" Una Bestial Produccion, quizas sea su mejor trabajo aunque yo prefiera el "Badmotorfinger"
Black Hole Sun
Spoonman
Luego del TOur Mundial par cubrir el aclamado LP, la banda volvio al estudio y grabo su 5° y por ahora ultimo Album, el experimental y laaargo "DOwn On The Upside" que es un buen Disco, pero se me hace demasiado largo.
Pretty Noose
La banda empezo a desgastarse, hubo tensiones que terminaron en la separacion de la banda en 1997. Chris Cornell fue el mas activo de todos los miembros con 3 discos solistas, apariciones en otros discos como cantante y fue el cantante del Super Grupo Audioslave con los viejos integrantes de Rage Against The Machine, con quien grabo 3 discos tambien. Matt Cameron se convirtio en el Baterista de Pearl donde grabo 4 discos y toco en discos de los SMashing Pumpkins y Geddy Lee. Ben Shepherd fue bajista de MArk Lanegan y Tony Iommi. y Thayil estuvo en proyectos bastantes raros, siendo el mas de renombre el disco solista de Dave Grohl "Probot". Pero En 2009 la banda volvio y saco 2 Singles desde su vuelta. En 2009 "Black Rain" y en 2012 "Live To Rise" que salio en la blockbuster "Los Vengadores" (Que dicho sea de paso, el que escribe no la ha visto, por mucho escote que Scarlett Johansson muestre).
Black Rain
Live To Rise
No he perdido nada desde 1994 Bitches
Y El Esperado album regreso de Soundgarden llegó este 2012. "King Animal" es el Discazo del Año. Un Sonido Demoledor. Kim Thayil muestra algunos de sus más destructivos Riff, Cornell mantiene algo de su portentosa voz y Sheperd y Cameron demuestran porque son de las bases más arrolladoras del Rock.
Been Away For Too Long
By Crooked Steps
Ficha Tecnica
Chris Cornell - Voz, Guitarra Ritmica, Guitarra Acustica
Kim Thayil - Guitarra, Guitarra Acustica
Matt Cameron - BAteria, PErcusiones
Hiro Yamamoto - Bajo, Voz
Ben Shepherd - Bajo
Discografia
1988 - Ultramega OK
1989 - Louder Than Love
1990 - Screamin Tree/Fopp
1991 - Badmotofinger
1994 - Superunknown
1996 - Down On Th Upside
2012 - King Animal

En Vivo
1990 - Louder Than Live
1992 - Motorvision
2011 - Live On I-5
Recopilatorios
1997 - A-Sides
2010 - Telephantasm