Se Viene la Primavera en el Hemisferio Sur y la gente se pone feliz, alegre, Promiscua y con Poca Ropa para variar. Ustedes me conocen, EL Invierno es mi Estación Favorita pero viendo como me fue, mejor recibamos bien la Primavera, que no traiga problema alguno, y que los dias soleados y las lluvias que te humedecen todo, mas todos los bicharracos e insectos que salen en esta estación vengan tambien con 3 buenos meses en lo personal, sin problemas...
Para Vince arrancó con Problemas. Quebradura de Tobillo tras tirarse de palomita a Buscar un Ala de Pollo mientras estaba en una Orgia. Vince te deseamos una cachonda y pronta recuperación.
Hagamos como Vince, que a todo le pone su sonrisa cachonda y llena de vigor y perversión , asi que para acompañar nuestro Intento de "Bad Time Good Face" vamos a ponerle cosa alegre para contrarrestra la onda depre de los discos del Mes. Combatamos Grunge con Glam Rock. Arrancamos con T.Rex y ahora el elegido para el post de hoy son Mott The Hoople. La Banda de Ian Hunter, el tipo con el mismo peluquero que Robert Plant y las Gafas de Sol eternas. La Unica banda que teloneó Queen, Banda idolatrada por Bowie, en fin, una EMINENCIA del Glam Rock de los 70's
Formada por la unión de 2 bandas, The Soulents, de donde venían el Baterista Dale Griffin y el Guitarrista/Bajista Pete Watts y The Buddies de donde procedían el Guitarrista Mick Ralphs y el Vocalista Stan Tippins.Luego de un Par de Vueltas, estos 4 personajes formaron un Grupo alrededor de 1968 y se les sumo el Tecladista Verden Allen. El Grupo, con varios cambios de Nombre empezó tocando en Italia, paso por UK y Suecia y volvió a las Islas en Busca de sellos aunque fuerechazado por todos, hasta que Guy Stevens, productor de Island, quien los acepto pero con la condición de que se buscaran otro cantante. Asi Tippins paso a ser su Manager y entró en su lugar Ian Hunter, quien haría las veces de Guitarrista ritmico y Tecladista Ocasional. La Banda decidió adoptar el Nombre de Mott The Hoople, que lo sacaron de una novela que habia leido Stevens acerca de un Excentrico que trabajaba en un circo de fenomenos mientras estaba en prisión. Con todo ensamblado, la banda decidió meterse al estudio y grabar su disco debut homonimo "Mott The Hoople" Un disco de Culto para fanaticos del Glam Rock, Blues Rock y Hard Rock. Pariente lejano de Los Faces.
Rock And Roll Queen
Backsliding Fearlessly
Ian Hunter, usando Anteojos De Sol desde antes de su existencia.
Su Debut fue muy prometedor pero su 2° "Mad Seasons" no tuvo lo mismo, y falló en ventas y criticas
Walkin' With A Mountain
Para su 3° Disco, "Wildlife" de 1971, la banda decide auto-producirse y aca se van mas por las ramas de lo Folky mas que lo Rockero de sus anteriores discos pero asi y todo es un buen disco, mejor que el anterior.
Whiskey Women
Stevens vuelve a hacer equipo con los Mott para su 1° Masterpiece, a pesar de que no lograra muchas ventas, "Brain Capers" es una gema del Glam Rock y Hard Rock, te puedes encontrar con Rockers pasionales a lo Humble Pie, Baladas de Piano a la Elton John o Canciones Acusticas a lo Dylan. Un Disco Brillante, su paso previo a la perfección.
Death May Be Your Santa Claus
The Journey
La Banda habia compuesto una Obra Maestra con su anterior album, pero estaban en la ruina, ya que ninguno vendió como la gente y luego de un concierto deprimente en Suiza en un contenedor de Gas Abandonado, la Banda decidió separarse. Esto llega a Oidos de un David Bowie en la antesala a convertirse en un Dios del Rock. Y Que Ademas era fanatico de la banda. El Le Ofrecio canciónes para que graben y tambien se ofrecio de productor para su proximo Disco. La Canción que terminó aceptando la banda fue "All The Young Dudes" que terminaría siendo su himno y tema mas famoso. Y El Disco Homonimo, terminaria siendo su mas grande Obra Maestra. Puro Glam Rock, ahi junto a los "Ziggy Stardust...", "Aladdin Sane", "The Slider y "Electric Warrior". Maravilloso.
All The Young Dudes
Ready For Love/After Light
Bowie los salva y los deja solos en su camino, y tambien se va de la banda Verden Allen, En Su Reemplazo Llega Morgan Fisher y con la banda reensamblada devuelta. Vuelven al Estudio a mantener el nivel de su anterior placa y lo logran, con IanHunter como dominador en la composición sale "Mott", con el que llegan a USA y se convierten en Super Estrellas Britanicas.
All The Way From Memphis
Ballad Of Mott The Hoople
Mick Ralphs, cansado de no poder aportar todolo que componia y que a Hunter no le de la voz para sus temas, se va del Grupo y forma Bad Company. En Su Reemplazo llega Luther Grosvenor, que ahora pasa a ser Ariel Bender, quien fuera Guitarrista de Spooky Tooth, Banda del Bajista de Humble Pie, Greg Ridley.
Ellos Grabaron el Ultimo Disco de Mott The Hoople "The Hoople" otra gran Masterpiece de Puro Rock And Roll
The Golden Age Of Rock And Roll
Roll Away The Stone
Estamos Ebrios, Muy Ebrios
Luego Bender se fué, vino Mick Ronson en su Reemplazo pero Hunter decidió llevarselo para su propio proyecto y ambos dejaron Mott The Hoople y la banda se terminó. Los Demas siguieron como Mott y luego como British Lion pero sin exito alguno. Morgan Fisher fue tecladista en 1982 de Queen e Ian Hunter tuvo una exitosa carrera solista, donde se destaca su colaboración con Ronson a fines de los 70's y 80's.
Once Bitten, Twice Shy
Big Time
Ficha Tecnica
Ian Hunter - Voz, Guitarra Ritmica, Piano, Organo Hammond, Coros
Mick Ralphs - Guitarra, Guitarra Acustica, Slide Guitar, Mandolina, Teclados, Organo Hammond, Sintetizador, Voz, Coros
Pete Watts - Bajo, Coros
Dale Griffin - Baterias, Percusiones, Coros
Verden Allen - Teclados, Organo Hammond, Piano, Sintetizadores, Coros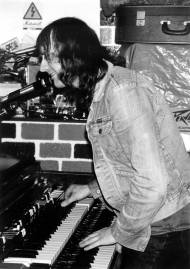 Morgan Fisher - Teclados, Piano, Organo Hammond, Sintetizadores, Coros
Ariel Bender - Guitarra, Coros
Discografía
1969 - Mott The Hoople
1970 - Mad Shadows
1971 - Wildlife
1971 - Brain Capers
1972 - All The Young Dudes
1973 - Mott
1974 - The Hoople
En Vivo
1974 - Live!
1996 - Original Mixed Up Kids: The BBC Recordings
2000 - Rock And Roll Circus Live
2006 - Live Filmore West
2008 - In Performance: 1970-1974
2009 - Live At HMV Hammersmith Apollo 2009
Recopilación
1974 - Rock And Roll Queen
1976 - Greatest Hits
1993 - Ballad Of Mott The Hoople - A Retrospective
1997 - All The Young Dudes: The Anthology