Arranca Septiembre en Miguel Francolini's Blog. Luego de nuestro agotador Agosto, se viene un mes light en todo sentido. Este mes solo tendremos nuestro cronograma habitual, Y Personalmente (A Pesar de que ire a Particular todos los dias (Excepto Domingo y Lunes y ocasionalmente Jueves) para aprobar Programación y tener Diciembre Libre. Pero En Septiembre ya casi no habra examenes de seguro. Mientras que en el cronograma del Blog nos depara: Seguir con el rumbo de Boca en el Torneo Inicial. Trilogia del Grunge con discos de Alice In Chains, Soundgarden y Pearl Jam. Blondie Girl Argentina, Canción de Yes y en la tematica del Mes, Glam Rock de los 70's Baby. Pomposidad, Brillantina, Colorinche, Extravagancia y Rock And Roll. Y Hoy, arrancamos con el Genesis de Todo, Mientras todos hacian Folk de Protesta o se daban con LSD hasta el cuello y hacian JAms eternos y el hasta entonces Under Sound del Hard Rock y Heavy Metal no salia de ahi. Marc Bolan se saco la Acustica, se compro un kit de maquillaje, purpurina, compro la ropa mas entravagante, Se colgo una Les Paul And Let there Be Glam Rock.
Yo fui el 1° Leopard Boy Baby
Si, My Dears, Hoy Hablaremos de la banda con el Rock And Roll mas Sexy y Porno de la historia, T.Rex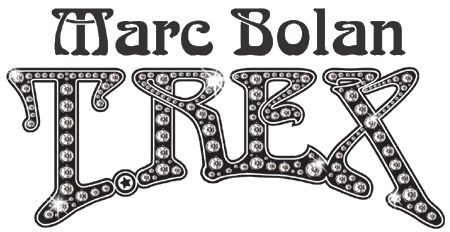 Marc Bolan Forma Tyrannosaurus Rex como una banda Folk junto al Percusionista Steve Peregrin Took. Su Estilo era muy distinto a lo mas conocido a la banda, sino mas tirando a unos Hippies ingleses que tocaban Folk Psicodelico. El DUo se alió con Tony Visconti, Luego Productor Historico del David Bowie mas exitoso y Glam. No era asi como algo muy entretenido pero zafaba. Asi salió su 1° Disco (Y Luego de esto respiraré) porque el nombre de su Debut es "My People Were Fair And Had Sky In Their Hair...But Now They're Content To Wear Stars In Their Brows" Mucha IMaginativa habia en el duo al parecer
Hot Rod Mama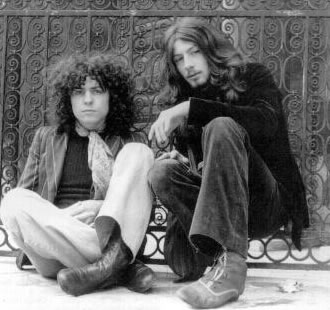 Este Tipo Took es muy aburrido, Odia la Purpurina, El Leopardo, Asi no se puede seguir mucho tiempo
Para su 2° Disco "Prophets, Seers And Sages: The Angels Of The Ages" continuaron en esa onda
The Friends
El Ultimo Disco con Took fue "Unicorn" curiosamente fue el mas exitoso de todos los discos.
She Was Born To Be My Unicorn
Took queria escribir asi que Bolan le metio una patada en el orto y se trajo a otro Percusionista llamado Mickey Finn y juntos graban el 4° Disco de la banda "A Beard Of Star" (Cuanto LSD se necesita apra ponerle a tu album un nombre asi?) donde por 1° Vez Bolan toma una Electrica y se nota el salto de calidad que pega la banda.
Elemental Child
A Daye Laye
Mickey es un gran tipo. Le Gusta mi vestimenta Leopardica, No tiene ambiciones en querer meterse con mis canciones y ya le eche el ojo a su hermana y esta para dedicarle todo los Albums que veremos a continuacion.
Hasta entonces, la banda estaba como en un hibrido entre sus raices Folkies y su nuevo uso Electrico, Entonces Bolan se decidio a inclinarse mas para el ELectrico y simplificar el nombre de la banda a T.Rex y hacer como si todo empezara devuelta. Asi el 5° Disco de la banda y el 1° con su nuevo nombre "T.Rex" es el paso previo a la etapa clasica del Grupo. Y Aqui dejan oficialmente el Folk Psicodelico y este es su ultimo disco como Duo
Jewel
The Wizard
Y ahora si Bolan hizo lo que debia hacer. Comprarse purpurina, rimmel, spray y la ropa mas extravagante, llamativa pero de muy buen gusto. Y Que la Electrica sea la principal en la banda. Sumale un sentido del ritmo y melodia tremendo y tenes Glam Rock y "Electric Warrior" como su 1° Opera Maestra.Este es el disco definitivo de Bolan y T.Rex. El 1° donde participan la base ritmica Bill Legend y Steve Currie. Y El Disco donde tienen a su mas grande hit "Get It On", en definitiva, el disco mas sexy del Rock
Get It On
Jeepster
SIempre es bueno tener mas de un amigo... para poder tirarse a sus novias, hermanas o madres
Y Bolan estaba en Estado de Gracia y agiganta su leyendo con el pornografico "The Slider" un Soundtrack digno de cualquier Porno Francesa, Bolan, a pudo jadeo y seducción se recibe como el Cock Rocker mas elegante jamas visto.
Metal Guru
Buick Mackane
Y La "Golden Age" de la banda cierra con "Tanx" que como disco no tuvo mucho exito pese a ser brillante pero Singles como "20th Century Boy" y "Children Of The Revolution" lo mantuvieron en alto.
20th Century Boy
Children Of The Revolution
Todo empieza a cambiar desde entonces, Bill Legend se va de la banda por el egoismo de un Bolan hundido en la ambición de Dinero, Drogas, Brandy y Mujeres. A Bolan poco le importo la salida de su baterista y ahora apuntaba a nuevos rumbos. Tal como lo hacia Bowie con "Young American" y su sonido mas Soul. Bolan tambien se mudaba a los sonidos de Philadelphia con "Zinc Alloy And The Hidden RIders Of Tomorrow" (Siguiendo con las comparaciones con David, El titulo de este disco recuerda bastante al "Ziggy Stardust And The Spiders From Mars" de Bowie) y nos dejaba un buen disco pero lo cierto es que Marc tenia que hacer Rock And Roll no Soul.
Venus Loon
Teenage Dream
La nueva orientación de musical de los ahora Marc Bolan & T.Rex (Que encima perdían a su productor historico Tony Visconti y a Mickey Finn) se confirma con "Bolan's Zip Gun" aunque verdaderamente no llega a superar a "Zinc Alloy..."
Light Of Love
Till Dawn
Esta decadencia en la banda alcanza su punto maximo en "Futuristic Dragon" el peor disco de la banda desde los discos con Took. Muy Futuristico, muy raro, algo poco entendible.
New York City
La Banda decide volver a su sonido mas clasico con "Dandy In The Underworld" de 1977. No llega al nivel de sus obras maestras del Glam pero es un buen disco. Lastima que haya sido el ultimo de la banda.
Dandy In The Underworld
I Love To Boogie
Cuando la suerte parecia repuntar para nuestro querido Enano Elegante y Pervertido, un 16 de este mes del año 1977, su Novia y Corista de la banda, Gloria Jones, choca y Marc muere instantaneamente. Y asi hay otra de las muchas, lamentablemente, historia que cuentas las desgraciadas muerte de grandes Rockstars. Bolan tenia solo 29 años. Obviamente que T.Rex muere con el y curiosamente todos sus ex-miembros (excepto Bill Legend) murieron. No era el final merecido para el genio de Bolan y su T.Rex. Merecian un Mejor final sin dudas, Marc, donde quieras que andes jadeando te extrañamos.
Pues yo la verdad que no, aca la paso Bomba, Vente Rapido, deja que Aretha Franklin te maltrate
Creditos
Marc Bolan - Voz, Guitarra, Guitarra Acustica, Teclados, Bajo, Percusiones, Coros
Steve Peregrin Took - Percusiones, Bateria, Coros
Mickey Finn - Percusiones
Steve Currie - Bajo
Bill Legend - Batería
Discografia
1968 - My People Were fair And Had Sky In Their Hair. But Now, They´re Content To Wear Stars In Their Brows
1968 . Prophets, Seers And Sages: The Angels Of The Ages
1969 - Unicorn
1970 - A Beard Of Stars
1970 - T.Rex
1971 - Electric Warrior
1972 - The Slider
1973 - Tanx
1974 - Zinc Alloy And The Hidden Riders Of Tomorrow
1975 - Bolan's Zip Gun
1976 - Futuristic Dragon
1977 - Dandy In The Underworld
En Vivo
1981 - In Concert
1993 - Live In Concert
1997 - Electric Boogie
1997 . Live 1977
2001 - Live At The Boston Gliterdome 1972
2001 - Uncaged
2006 - Born To Boogie
Recopilatorios
1971 - The Best Of T.Rex
1972 - Bolan Boogie
1981 - 20th Century Boy
1985 - T.Rextasy: The Best Of T.Rex 1970-1973
1991 - The Very Best Of Marc Bolan & T.Rex
1997 - The Best Of Unchained Series: Unrealesed Recordings
1997 - The BBC Recordings: 1970-1976
1999 -The Very Best Of Marc Bolan & T.Rex Vol. 2
2000 - Bump N' Grind
2002 - Hits! - The Very Bes Of T.Rex