Cerramos Febrero en el Rubro Bandas con Una Banda Epica, Muy Influyente pero poco Reconocida y que dejo a grandes Músicos para grandes Bandas del Heavy Metal y El Hard Rock, Trapeze.
Fundada En 1969 Por El Vocalista e Instrumentista de Viento John Jones, El Tecladista Terry Rowley (Ambos de Montanas), El Guitarrista y Cantante Mel Galley, El baterísta Dave Holland y el Bajista y Cantante Glenn Fuckin' Hughes. Juntos Grabaron el 1° Disco de La Banda aunque Rowley y especialmente Jones Tuvieron muy escasa participación en la grabación, no así en la composicion donde Jones co-compuso 5 temas y Rowley 2 pero desde el ya el camino lo marcaría el tandem Galley-Hughes. Yendo al Disco En Sí, Un Gran Disco, aunque comparado con lo que venía no le llegaba. Sería como su etapa más Psicodelica pero con ese Toque Funky Soul que le da Glenn y los Riff Hard Rockeros/Bluesy de Mel.
Am I
Over
Pudimos Ser Deep Purple, hasta las pintas teníamos
Jones y Rowley vuelve a Montana y El Trio Galley-Hughes-Holland se afianzó y volvió al Estudio y grabo uno de los mejores Discos de la decada "Medusa" Un Disco Clave En la Historia del Heavy Metal, El Funk Rock y El Hard Rock aunque muy Infravalorado por El Público. Los Riff y Solos de Galley son Heavies y Rapidos como los de Iommi, Page o Blackmore, La Voz de Hughes esta pletorica y su Bajo es Asesino y Holland aporrea como pocos la batería. Discazo Brutal.
Black Cloud
Medusa
Glenn: Mira Esa Rubia Infernal por El Amor de Dios
Mell: Mira Ese hermoso Paisaje del Parque
Dave: Mira A Ese Niñita De 8 Años Mmmm
Para Su 3° Disco "You Are The Music... We're Just The Band" La Banda desato su toque Jazzero y Funky Soul al maximo más que el Hard Rockero, Casi Heavy Metal de la anterior Placa pero salió Brutal y nos entrega otro disco genial lleno de Funk, Hard Rock, Jazz y Gritos de Glenn.
Feeling So Much Better Now
You Are The Music... We're Just The Band
En uno de los Shows de Trapeze en 1973, Asistieron Ritchie Blackmore y Jon Lord y ahí fijaron sus ojos en Glenn Hughes y lo trajeron a Deep Purple, inicialmente para reemplazar a Ian Gillan pero viendo que tocaban tan bien el Bajo, le dieron salida al pobre de Roger Glover (Como todos sabemos la cosa podría haber funcionado perfecto con Glover y Hughes pero Nos Hubieramos Perdido de nuestro querido David Coverdale y lo del Dueto Quedó Genial así que no nos quejamos). Pero La Cuestión es que Trapeze perdía a su pieza fundamental. Multi-Instrumentista, Cantante y Compositor Principal. PArecía que todo llegaba a su fin para Galley y Holland pero el pequeño Guitarrista se las arreglo porque tambien tenía una muy buena voz y era un brillante compositor así que con Holland de ladero y las incorporaciones de Peter Wright al bajo y Rob Kendrick en la Guitarra, más Terry Rowney viniendo a tocar los Teclados para grabar el muy bueno "Hot Wise" Un Gran Disco Con Mucho Toque Blusero, algo de Funky y Hard Rock preciso gracias a la gran labor de Galley en Voz y Guitarra.
Back Street Love
Turn It On
Mira El Bigote como anda fichando Bultos con Cariños
Trapeze continuo con Esta formación con un moderado exito y grabo un 2do Disco tambien titulado "Trapeze" (Cortos de Ideas los muchachos) donde bajan algo el Nivel pero sigue siendo un buen disco de Hard Rock. Ademas Glenn Hughes que había salido recien de un disuelto Deep Purple se paso por El Estudio y grabo 2 canciones con el Grupo. A Fines de 1975 Hubo una Reunion de la formación original pero Hughes se fue antes de que la banda vuelva al estudio y continuo una carrera en Solitario
Monkey
Nothin' For Nothing
Rob Kundrick se va de la banda y en su reemplazo viene el cantante y Guitarrista Peter Goalby, dotado de una magnifica voz y con el que grabaron "Hold On" un Disco que sería un gran exito en la critica y vendería mucho y que tambien sería lanzado con diferente orden en las canciones y con distinta portada como "Running". Como Dato de Color las 2 portadas destilan Cock Rockismo Puro (La de "Hold On" es un auto y una mano apoyada en la ventana dando a entender que hay una pareja probando los amortiguadores en el asiento trasero, mientras que la de "Running" es una imagen de una rubia desnuda cuadriplicada para decir lo gloriosa que es)
Time Will Heal
Take Good Care Of Me
Microfonos como Penes? Ya se donde dejar mi curriculum
La Banda Giro con esta formación hasta 1979 cuando Dave Holland se fue a Judas Priest y Steve Bray lo reemplazó y luego en 1981 Goalby se iría a Uriah Heep a reemplazar a John Sloman, Galley continuaría girando hasta 1982 cuando se une a Whitesnake en reemplazo de Bernie Marsden hasta 1984. Mientras Dave Holland triunfa como Baterista de los Judas Priest más exitosos hasta 1990 y Glenn Hughes es Cantante de Black Sabbath, tiene varios Proyectos y Colaboraciones y sufre en el Infierno de las Drogas Hasta que en 1991 Deciden Reunirse con Geoff Downes, tecladista de Yes y Asia para hacer una gira de Reunión, luego volvieron a sus proyectos hasta 1994 donde se juntaron para el concierto homenaje a Ray Gillen. Actualmente, Glenn Hughes se curo de sus adicciones y triunfa con una exitosa carrera solista, geniales colaboraciones con grandes artistas y liderando el super grupo Black Country Communion, Dave Holland fue acusado por Abuso de Menores en 2004 y practicamente su vida se arruinó porque termino en prisión y ninguno de sus ex compañeros lo quisieron tener en sus proyectos o volver a contactar con el. Y Mel Galley falleció de Cancer en 2008 lo que imposibilito cualquier posible regreso. Y Así llegamos al final de la historia de una grna banda, con grandes músicos involucrados y que dejo un gran legado aunque no sea muy reconocido por todos.
Ficha Tecnica
Glenn Hughes - Voz, Bajo, Piano, Trombon, Guitarra Acustica, Guitarra Ritmica, Coros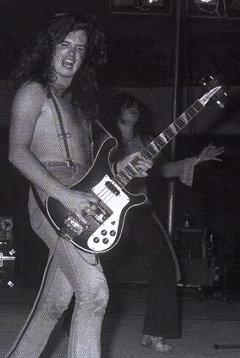 Mel Galley - Guitarra, Guitarra Acustica, Slide Guitar, Voz, Bajo, Coros
Dave Holland - Batería, Percusiones
Discografía
1970 - Trapeze
1970 - Medusa
1972 - You Are The Music... W're Just The Band
1974 - Hot Wire
1976 - Trapeze
1978 - Hold On!
En Vivo
1974 - The Final Swing
1975 - Live At The Boat Club
1981 - Live In Texas: Dead Armadillos
1993 - Welcome To The Real World - Live 1992
Recopilaciones
1996 - High Flyers: The Best Of Trapeze
1998 - Way back To The Bone
2003 - On The Highwire