En Este Verano que ha pasado, en una de mis tantas teorias absurdas. Desarrollamos una hipotética 3° Guerra Mundial con los Rockers como Figuras. Y Pronto en el topico salió la figura de una persona que aqui queremos mucho: Ted Nugent. El Tio Ted es un personaje de por más entrañable. Por más de sus muchos detractores. Ted es un tipo Sincero. Detesta el Alcohol y las Drogas, por lo que nada en su alredor hay de eso y es un tipo que Prefiere Cazar Bizontes y Ciervos y Acostarse con Mujeres Sureñas Curvosas. Por Eso y porque ademas es un virtuoso Guitarrista y Cantante, hoy vamos a homenajear a Ted Nugent con un post repasando su carrera
Nacido En Detroit el 13 de Diciembre de 1948, Hijo de Militar, Ted tuvo una rigurosa Infancia y Educación y así y todo desde 1958 que toca la guitarra, luego logra formar su 1° Banda, The Amboy Dukes. Una Banda de Blues Psicodelico donde Ted Tocaba la guitarra y dominaba a sus Anchas, entre sus filas estuvo el cantante de Cactus Rusty Day. Pero Luego de 6 discos editados y un moderado exito, Ted Decide formar su carrera Solista. Contrata a una banda, Rob Grange Al Bajo, Clifford Davies en Batería y Derek St Holmes en Voz y Guitarra Ritmica y deciden meterse al estudio en 1975 para grabar el Debut Homonimo. "Ted Nugent" es un clásico de la historia del Rock, gracias a la poderosa Voz de St Holmes y los Riff y Solazos de Ted lo hicieron uno de los mejores discos de Blues y Hard Rock de la historia.
Stranglehold
Motor City Madhouse
Ted Nugent Al Enterarse que Jimmy Carter es Presidente de los Estados Unidos en 1977
El Disco fue Un Exito pero entre St Holmes y Nugent siempre hubo tensiones y en medio de las sesiones del 2° Disco "Free-For-All" Derek deja el grupo y Ted se hace cargo de la mayoría de las voces y para unas canciones donde tenía que cantar St Holmes, la Voz la puso un macizo y desconocido Cantante que luego sería conocido como Meat Loaf y vendería Miles de Millones de Discos por el modico preció de 500 dolares solamente. El Disco fue exitoso y trajo varios Hits.
I Love You So I Told You A Lie
Dog Eat Dog
St Holmes termina volviendo para la gira del 2° Disco y Se Dispone a grabar el 3° Disco con el grupo. "Cat Scratch Fever" y su tema homonimo fueron un exito Arrollador que volvió a Ted una super estrella de Rock.
Cat Scratch Fever
Wang Dang Sweet Poontang
El Pico de Ted llegaría con la salida de su 1° Disco En Vivo "Double Live Gonzo!" Top 10 de los mejores directos de la historia. Este Disco Captura todo el salvajismo crudo que daba Nugent en sus Shows En Vivo y que ademas traía temas nuevos
Gonzo
Great White Buffalo
Grange y St Holmes se van de la banda de Ted definitivamente y Ted Contrata al cantante y Guitarrista Charlie Huhn con el que grabaría "Weekend Warrior" en 1978, Un Disco que baja el nivel pero sigue siendo digno del Tio Ted
Need You Bad
One Woman
Y Ted Cierra los 70's con el masomenos "State Of Shock"
Paralyzed
It Don't Matter
Los 80's para The Nuge arrancan con "Scream Dream" Un Disco que trae su ultimo gran Clásico "Wango Tango"
Wango Tango
Scream Dream
Y Tu Porque Carajo No Entras a mi camarin Zorra
La Epoca Dorada de Ted cierra con "Nugent" de 1982 que cuenta con la vuelta de Derek St Holmes (Vinculado a un proyecto con Brad Whitford de Aerosmith por entonces) y Carmine Appice en la batería. Otro Disco que no deslumbra pero tiene momentazos y la voz de St Holmes realza la obra
No, No, No
Bound And Gagged
La debacle del Madman empieza con "Penetrator" Un Disco Plagado de Sintetizadores, que incluye a Brian Howe, futuro cantante de Bad Company, en la Voz, Donde se mata la esencia Salvaje y Cruda que caracteriza al Oriundo de Detroit
Tied Up In Love
Y El Desastre continua con "Little Miss Dangerous" Uno de los discos más feos que se han hecho en la historia
Little Miss Dangerous
En Su Ultimo Disco de los 80's, Ted Intenta Volver a sus rutas Rockeras y lo logra a medias con "If You Can Lick 'Em, Lick 'Em" Un Disco donde vuelven las Guitarras pero suena Repetitivo y sin ningun tema desbocante, ademas de que por aquí anduvieron Bon Jovi y Sambora. Y eso, para un Cock Rocker como Ted es un Insulto grande como su Gibson.
If You Can Lick 'Em, Lick 'Em
Ted Decide parar su carrera debido al poco exito que estaba teniendo y formo un supergrupo llamado "Damn Yankees" en 1989 junto a Tommy Shaw de Styx, Jack Blades de Night Rangers y un desconocido baterista Michael Bartellone, que luego estaría en Lynyrd Skynyrd. El Resultado fue un Rock AOR y Comercial (Como El De Styx) que particularmente me aburre, tiene sus momentos cuando The Nuge sale a Rockear pero los temas de Shaw son más pastelones que Bon Jovi incluso. Con 2 Discos en 3 años y 3° Puesto con la balada "High Enough" el proyecto se dio por terminado y The Nuge volvió a su carrera solista. Esta vez tenía que retomar con todo el Punch y para eso vuelve a traerse al bueno de Derek St Holmes para grabar "Spirit Of The Wild" Su Mejor Disco desde "Cat Scratch Fever" Un Disco Demoledor con Grandes Riff y Solos y descomunales voces. Rock And Roll Salvaje para reactivar la depresión que había dejado el Grunge.
Tighraceous
Fred Bear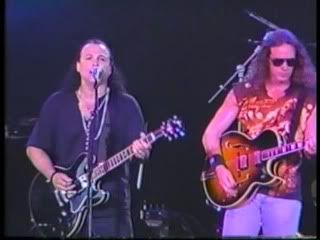 Derek St Holmes iba a la misma peluquería de
Ted Regresa en 1998 con Damn Yankees hasta 2001 donde regresa en Estudio para sacar "Craveman" Un Disco Muy Heavy, por momentos tiene que ver más con Sabbath y bandas Grunge que con Ted pero es demoledor, Un Disco Brillante, Heavy y muy muy Rockero
KLSTRPHNKY
Rawdogs & Warhogs
Ted Nugent posando para su candidatura en 2016
Durante estos años siguiente, Ted se la paso más en polemicas por su amor a las Armas, La Cacería y sus comentarios Sureños sobre Negros y Homosexuales y Defenestración a Obama. Tambien Sacó un ultimo Disco hasta ahora "Love Grenade" Que continua con Ted Rockeando como el sabe. Un Buen Disco empequeñecido por las polemicas de Teddy
Love Grenade
Still Raisin Hell
Discografia
1975 - Ted Nugent
1976 Free-For-All
1977 - Cat Scratch Fever
1978 - Weekend Warrior
1979 - State Of Shock
1980 - Scream Dream
1982 - Nugent
1984 - Penetrator
1986 - Little Miss Dangerous
1988 - If You Can Lick 'Em, Lick 'Em
1995 - Spirit Of The Wild
2002 - Craveman
2007 - Love Grenade
En Vivo
1978 - Double Live Gonzo!
1981 - Intensities In 10 Cities
1997 - Live In Hammersmith '79
2001 - Full Bluntal Nugity
2005 - Extended Versions
2008 - Sweden Rocks
2009 - Motor City Mayhem
Recopilatorios
1981 - Great Gonzos!: The Best Of Ted Nugent
1993 - Out Of Control
2002 - The Ultimate Ted Nugent