El Rock se va poniendo Viejos, Mis Queridos Lectores. En Los Ultimos 2 días perdimos a 2 brillantes músicos como lo eran Ray Manzarek, de The Doors, y Trevor Bolder, de The Spiders From Mars La banda soporte de David Bowie como Ziggy Stardust, y de Uriah Heep por más de 35 años. Mientras que lo de Border paso de largo salvo para la gente del ambiente, lo de Ray golpeó duro en la sociedad. The Doors es una banda muy querida en este país y se hizo sentir la perdida de semejante talento. Un excelso Tecladista, Pianista, Organista y Compositor. Hombre clave en lo que sería el Sonido Psicodelico que saldría por ese año 1967. Ademas del 1er Tecladista en Serio del Rock. Por el Otro Lado, Bolder siempre fue un soberbio Bajista y que estuvo en los discos más miticos y mejores de Bowie y en Uriah Heep compartió el ultimo tramo de la Era Byron, Estuvo como hombre importante en la Era Lawton y estuvo tambien cuando John Sloman tomo el microfono. Luego partió a Wishbone Ash a grabar un disco y volvío para no volver a irse de Heep. Un Hombre muy talentoso y querido en el ambiente. Ambos que En Paz descansen.
They May Rock In Peace
Hoy Quiero continuar con mi cruzada contra Los Indies y el Indie Rock. Han Notado que Las Indies, a las cuales yo, en un acto de maldad, bauticé Indieliebers. Es que no hay mucha diferencias entre una fanatica de Justin Bieber y una Indie. El Otro Día llamaban como una fecha historica el que Los Arctic Monkeys vuelvan a tocar en vivo cuando solo pararon NUEVE MESES. Los Stones pararon 6 años sin siquiera mostrarse juntos y estas subnormales hacían escandalo por unos meses y encima trajeron un tema nuevo ("Do I Wanna Know? Un Buen Tema aunque sin mucho Punch como para ser el Opener de un concierto). En Fin que podemos esperar de personas que se consideran Indies pero no van a seguir bandas por bares sino que siguen a bandas que salen por todos lados y que no saben que es un Buen Solo de Guitarra o una Pasional Interpretación Vocal. Como esas que podemos encontrar en el Rock Sureño. El Genero que ocupa este mes y para cerrar tenemos a la banda liderada por un tipo que puede darnos ambas. El Sr Rickey Medlocke y sus Blackfoot hoy pasaran por el Blog para dar final al rock Sureño de Mayo.
La Historia arranca en 1969 con Rickey Medlocke, Charlie Hargrett y Greg T. Walker uniendose a la banda Fresh Garbage del tecladista Ron Sciabarasi como Baterista y Vocalista, Guitarrista y Bajista respectivamente. La Banda se disuelve con la ida de Ron y Rickey pasa a ser el cantante de una nueva banda, Hammer que los miembros restantes formaron con el Guitarrista y el Tecladista de la banda Tangerine, Jerry Zambito y DeWitt Gibbs y el Baterista Jackson Spires. La Banda no terminó Funcionando y los Ex Tangerine se fueron. Entonces Hammer se convirtió en Blackfoot para honrar el pasado indigena de sus miembros (Medlocke descendía de la tribu Sioux, Spire de los Cherokee y Walker de los Creek del Este). Pero La banda tendría poca vida ya que en 1971, Medlocke y Walker son ofrecidos para ser la base ritmica de Lynyrd Skynyrd. Pero sin exito Medlocke y Walker rearmaron Blackfoot para 1973 y en 1975 ya lograba grabar su 1er Disco. "No Reservation"
Railroad Man
I Stand Alone
Digna Escena de un Western de Clint Eastwood
La Banda se erigia como otra banda de Rock Sureño tipica pero que bebía de los Allman Brothers y Lynyrd Skynyrd y los convertia en algo más Heavy. En su 2do Disco continuan en esa indole aunque baja un poco la calidad de las composiciones en este "Flyin' High"
Feelin' Good
Try A Little Harder
La banda despega definitiva en 1979, curiosamente cuando menos chances tenía ya que la gente no se fijaba en el Rock Sureño y sus 2 maximos exponentes estaban en total decadencia o ya no existian como tal. Pero "Strikes" Fue Un Exitazo y un Discazo. Con sus 2 más grandes hits "Train, Train" y su "Free Bird", la Enorme "Highway Song".
Train, Train
Highway Song
Y El Momento de Gloria de la Banda se extendería con "Tomcattin" donde seguirian mostrando porque son la banda más Heavy del Rock Sureño
Warped
Every Man Should Know (Queenie)
Y La BAnda cierra su Trilogía Gloriosa con "Marauder" Otro Disco Demoledor, Duro y Brillante donde Medlocke demuestra todo su talento.
Too Hard To Handle
Rattlesnake Rock N' Roller
Para 1981, El Rock Sureño había pasado totalmente de moda y Blackfoot quería mantenerse en la escena y para eso contrata un tecladista. El Elegido fue un Ken Hensley que fue sacado de su Propia Banda, Uriah Heep, y venía a aportar su sonido Britanico con sus teclados. El Resultado fue "Siogo" de 1983. Un Disco donde Blackfoot suena más como Quiet Riot que como Los Allman Brothers pero no es un mal disco aunque suena Distinto
Send Me An Angel
Teenage Idol
Es Nociva la fealdad de esta gente
La cosa no funcionó y se encontró un Chivo Expiatorio en la apariencia de Charlie Hargrett, un hombre muy feo (Como si Ken Hensley fuera hermoso), Y Así le dieron salida a Hargrett en 1984 y sacaron "Vertical Smiles" Un Disco muy feo, Muy AOR, Una Mala Copia de los Rainbow, los Journey, los Foreigner.
Get It On
La Banda se terminó Disolviendo, yendose Hensley, Walker y Spires. Igual así y todo, MEdlocke y un grupo de Mercenarios se las ingeniaron para sacar el abominable "Rick Medlocke And Blackfoot" en 1987. Desde la portada sabes que la cosa va a estar fea y no miente.
Saturday Night
Blackfoot siguió bajo el comando de Medlocke durante los 90's y con mercenarios grabando junto a el. Pero ya en los 90's deseaba volver a su sonido original y sacó "Medicine Man" Un Disco donde vuelve a rockear como los viejos tiempos quizas sin la misma calidad que con la formación calidad y por momentos suena más como David Lee Roth que como Blackfoot (Medlocke pone morritos igual que Dave y tiene una voz bastante parecida). Lo Mejor en una decada.
Doin' My Job
Runnin', Runnin'
La Vuelta al Rock Sureño/Hard Rock no funcionó ya que el mundo estaba en una voragine terrible por esa epoca y el lugar de la Old School lo tenía ocupado Los Black Crowes. Así que Medlocke aguardó un poco y en 1995 sacó "After The Reign" Otro Gran Disco de Hard Rock Sureño donde tiene invitados como Zakk Wylde.
After The Reign
It's All Over Now
Lamentablemente, este resurgimiento músical de Blackfoot no estuvo acompañado por buenas ventas y Rickey desistió y volvió a Lynyrd Skynyrd pero esta vez como Guitarrista y Blackfoot se fue deformando a lo largo de los 00's con una versión Original sin Medlocke y la actual que son unos chicos todos producidos por Rick. Un Horror. Pero nunca más volveremos ver a la formación original ya que Jackson Spires falleció en 2005. Una Lastima para una gran banda que mereció Mejor suerte. Porque tenía las capacidades pero las modas no lo ayudaron a mantenerse.
Ficha Tecnica
Rickey Medlocke - Voz, Guitarra, Guitarra Ritmica, Guitarra Acustica, Slide Guitar, Dobro, Batería, Mandolina
Charlie Hargrett - Guitarra, Guitarra Ritmica, Slide Guitar, Guitarra Acustica
Greg T. Walker - Bajo, Coros
Jackson Spire - Batería, Percusiones, Coros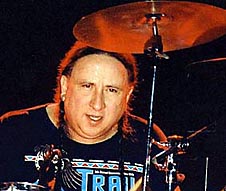 Ken Hensley - Teclados, Sintetizadores, Organo HAmmond, Piano, Slide Guitar, Coros
Discografía
1975 - No Reservations
1976 - Flyin' High
1979 - Strikes
1980 - Tomcattin'
1981 - Marauder
1983 - Siogo
1984 - Vertical Smiles
1987 - Rick Medlocke And Blackfoot
1990 - Medicine Man
1995 - After The Reign
En Vivo
1982 - Highway Song Live
1998 - Live On The King Biscuit Flower Hour
2004 - On The Run - Live
2007 - Train Train: Southern Rock's Best - Live
2011 - Fly Away - Live
Recopilatorio
1994 - Rattlesnake Rock 'N' Roll: The Best Of Blackfoot
2002 - Greatest Hits