No recuerdo si lo hablamos pero hoy me gustaría repasar aquellas personas que tenían todo para lograr la entrada a ese Olimpo histórico que en el Rock quedan solo unos pocos pero por una cuestión de tiempo, lugar o fortuna terminan pasando al ostracismo. Hay casos como el de Pete Best quien hoy podría haber sido el baterista de la banda más famosa del mundo pero por decisión de Brian Epstein pasó al anonimato absoluto, también se puede hablar del malogrado Stu Sutcliffe, bajista de los de Liverpool cuando eran 5, quien dejó la banda para formar una familia y murió de una hemorragia cerebral tiempo después (Curiosamente los Beatles volvían a Hamburgo un día después de la muerte de Stu).
Sabes Stu? No fue tan malo ser el Beatle que no fue.
Jeff Beck, si bien pasó a la historia con el tiempo, hoy podría ocupar un lugar muchisimo más importante en la historia de la música, y no solo tuvo la chance sino que la tuvo 3 veces!!!!. Pasemos a repasarla.
Con The Jeff Beck Group, Beck salió a competir de igual a igual con la potencia de los Cream de Clapton o la Experience de Hendrix. Y Además tenía el plus de la voz de Rod Stewart, más la brillante base rítmica de Ronnie Wood y Micky Waller/Aynsley Dunbar y luego sumo los talentos de Nicky Hopkins en los teclados. Pero cuando pudieron consagrarse en Woodstock, el grupo se desintegró y quedó como un grupo casi de culto en la actualidad.
Tras la disolución del JBG, Beck se reunió con la base rítmica de Vanilla Fudge, Tim Bogert y Carmine Appice, y planearon armar un supergrupo junto con Rod Stewart con el que mirarían de igual a igual a Led Zeppelin (Beck siempre se vio ensombrecido ante el éxito de Page en su propio juego). En los papeles todo iba a resultar, pero Beck tuvo un accidente en su moto y estuvo 45 semanas en reposo, tiempo suficiente para que el proyecto se disolviera y Stewart fuera seducido por Ron Wood para ir a los Faces, dejando a Bogert y Appice sin nada y yendosé a fundar Cactus. Beck tuvo que conformarse con refundar su propio grupo en una dirección muy distinta.
En 1972, Beck visita a Stevie Wonder en el estudio y empiezan a improvisar. Beck termina tocando un drumbeat que pareció bueno y luego terminó saliendo el Riff de lo que sería "Superstition". Ambos músicos acordaron en grabar el tema junto para editarla como Single. Pero, sin embargo, presiones de Motown para con Wonder presionaron para que Stevie saque su propia versión y Jeff la suya. Stevie acordó que Jeff la sacaría primero pero el tiempo se fue dilatando y Wonder tuvo que ceder ante las presiones discográficas y terminó lanzando su versión definitiva antes convirtiendo en un Hit abismal siendo N° 1 en todo el mundo, ademas de lanzar al musico ciego al estrellato total. Jeff sacaría su propia versión cercana al Funk Metal con Beck, Bogert & Appice pero no hubo caso, un misero hit menor significo para el guitarrista.
No aceptaré la oferta de Mick para los Stones, ya me llegará la grande, ya me llegará...
La gente que ha sonado para ocupar el puesto original de Brian Jones en los Rolling Stones no han mejor suerte, excepto Eric Clapton. Pero nombres de la talla de Jeff Beck, Rory Gallagher o Steve Marriott no han pasado la mejor carrera musical acorde a sus superlativos talentos. Como ya hemos hablado de Beck, ahora le toca el tuno a los otros 2. Ambos Salvajes Interpretesy Frontmen, Gallagher mas dotado como guitarrista y Marriott como vocalista. El Irlandes siguió la estela de Eric Clapton tras la disolución de su trio Taste teniendo una muy aceptable carrera solista en los setentas y parte de los 80's pero no acorde a un tipo que fue considerado por el mismisimo Jimi Hendrix como el mejor guitarrista del planeta en 1969. Quizás al lado de Jagger y Richards hubiera tenido un reconocimiento mucho mas amplio al menos a la altura del que tuvo Stevie Ray Vaughan entre otros.

El Caso de Marriott es incluso peor. Con sus condiciones como guitarrista, vocalista, multiinstrumentista, frontman y compositor, Marriott debió haber sido la estrella de Rock más grande de todos los tiempos pero nunca pudo lograr ese reconocimiento. Considerado como uno de los más grandes compositores de musica Pop Britanica en los 60's por sus propios colegas, Steve no gozó los lauros de Lennon, McCartney, Harrison, Townshend o Ray Davies por llegar solo 2 años más tarde que ellos, así que terminó inclinándose por su pasión el Blues y Rock Pesado formando el grupo Humble Pie con Peter Frampton. Marriott había rechazado la oferta de Jimmy Page para ser el cantante de su banda los New Yardbirds, devenidos en Led Zeppelin y el resto es historia conocida.


Humble Pie fue considerado el 1er grupo Heavy Metal por la prensa británica y hacía lo mismo que Led Zeppelin en la misma época pero no tuvo el mismo reconocimiento en America que los de Page. Tras la salida de Frampton, entro Clem Clempson en la banda y tiraron hasta 1975 donde tuvieron que disolverse. Ahí Marriott fue rechazado por Jagger para entrar a los Stones y Clempson no pudo entrar a Deep Purple para reemplazar a Blackmore. Tras ello, la carrera de Marriott, a pesar de un fenomenal comienzo como solista, entró en una espiral de Alcohol, Drogas y deudas que le arruinarían su vida entera hasta su trágica muerte en 1991 en un incendio. Una gran perdida y lástima que un artista de semejante calibre nunca haya tenido el reconocimiento acorde a su inmenso talento.
El Mundo no estaba preparado para juntarlos en un mismo escenario
En otra categoría, algo parecida, tenemos a hombres que tuvieron un éxito considerable al inicio de su carrera, fueron aclamados, pero poco a poco desaparecieron y ahora si queres verlos tenes que ir a verlos a algún tugurio de los Estados Unidos. Uno de esos casos es el del ex lider de Grand Funk, Mark Farner. De condiciones muy parecidas a las de Marriott, con Grand Funk tuvo un considerable exito hasta mediados de los 70's, luego la banda cambio el rumbo al gusto más comercial del baterista Don Brewer, sacandolé a Farner el control musical de la banda y disolviéndose en 1976. Desde entonces, Farner alternó reuniones con Grand Funk más una discreta carrera solista actualmente enfocada a la música cristiana (!)
Leslie West también tuvo una carrera así, hombre de inmenso cuerpo y talento como vocalsita y guitarrista, dirigió al grupo Mountain en una mítica performance en Woodstock. Se los consideraba los sucesores de Cream y uno de los impulsores del Hard Rock y el Heavy Metal. Como pueden imaginar, la fama de Mountain duró lo que duró la fama de "Mississippi Queen" y el grupo se terminó deshiciendo. Tras ello, West continuó con distintos proyectos y cosas solsitas sin éxito alguno. Hoy en día, West está rengo, en sillas de ruedas pero sigue grabando buenos discos pero olvidados por las masas.
Alvin Lee, al igual que West, lideró a su banda Ten Year After en una histórica actuación en Woodstock, Lee fue considerado el guitarrista más salvaje y rápido del mundo y la banda gozó de un exito interesante a principios de los 70's, tras ello, el grupo se disolvió y Lee arrancó una carrera solista exitosa en un inico pero que fue cayendo poco a poco teniendo mejor rendimiento como sesionista de amigos que otra cosa. Tras ello, Lee reunió Ten Year After en el 88 Alvin Lee grabó hasta pocos meses antes de morir en Marzo del 2013.
Do You Close Your Eyes When You're making love Playing Guitar?
2 de los ejemplos más caros de gente esquivada del exito son Peter Green y Syd Barrett que comparten una enfermedad mental que les terminó costando la aclamación popular y ser guitarristas citados como influencias por grandes personas. Peter Green saltó a la luz como el reemplazante de Eric Clapton en los Bluesbreakers de John Mayall y luego como el lider de Fleetwood Mac tocando Blues Rock a la par de Cream o Jimi Hendrix Experience. La banda gozo de exito en Europa en los 60's y 70's pero entre la esquizofrenia que sufría y su adicción al LSD, Green terminó dejando a la banda que en 1976 lograría un monstruoso éxito con Stevie Nicks. Mientras tanto, Green se vió atormentado por su enfermedad aunque siguió sacando discos con proyectos distintos y como solista.

Syd Barrett fue el fundador de Pink Floyd y amo absoluto de la banda por 3 años, cuando su adicción al LSD lo fue consumiendo poco a poco y lo llevó a ser remplazado por David Gilmour, 1ro como Guitarrista Lider y luego como Cantante en 1968. Tras ello, Barrett intentó seguir adelante pero su adicción lo terminó convirtiendo en un enfermo mental incapacitado para crear música. Barrett terminó muriendo en el total anonimato en 2006, totalmente ido de la realidad.
Mira Bart, ese es un loquito. Y ese otro también
La temática viene a verso de que la banda de hoy es una de los mayores exponentes de esta particulares. Warrior Soul pudo haber sido lo que fue Nirvana, Kory Clarke pudo haber sido el más grande ícono de los 90's pero por alguna razón no lo fueron. Los invito a descubrirlo a continuación.
Si estas dispuesto a tener una linda vida, mejor cambia de post.
La historia arranca en Nueva York en 1986 cuando un joven llamado Kory Clarke fundó su propia banda y vociferaba que sería la estrella más grande del lugar. Mientras todos se le reían, para nueve meses después, Clarke firmaba contrato con Geffen y se perfilaba para el estrellato. David Geffen le indicó que debí formar una mejor banda por eso trajo al guitarrista John Ricco y al baterista Peter Ferguson quienes se sumaban al bajista Peter McClanahan para formar la formación original de Warrior Soul. La banda giró por 3 años en pubs de Nueva York y salió en 1990 con su debut "Last Decade Dead Century".
We Cry Out
The Losers
Sí, miramos muy negro el futuro pero también vemos muy abierta a tu hermana
Para 1990, Warrior Soul no podía terminar de encajar en ningun lado. Eran demasiado metálico para los Sleaze como Faster Pussycat, Tesla o L.A. Guns, demasiado oscuros para gente como Skid Row o los Guns 'N' Roses, demasiado técnicos para los Grungies como Nirvana o Mudhoney, muy Hard Rockeros para Pantera y muy anti comerciales para los Metallica y Megadeth. Quizás calzarían en ese lugar donde están Alice In Chains, Soundgarden, los Anthrax de John Bush y Rage Against The Machine. Un Metal/HArd Rock denso, oscuro y con tintes políticos. De hecho, Warrior Soul podrían haber tomado el lugar que tomó Nirvana con "Nevermind" pero vaya a saber uno porque la Generación X no se quedó con Kory Clarke y sí con Kurt Cobain (Curiosamente, ambos músicos comparten iniciales).
El debut fue un éxito principalmente en UK así que la banda tomo la decisión de grabar un segundo disco, pero con un nuevo baterista: Mark Evans. Así fue como en 1991 salió "Drug, Gods And The New Republic" al mercado con ideas aún más perturbadoras
Intro/Interzone
Hero
No seré feliz ni exitoso pero mirá el pelazo que tengo.
Su 2do esfuerzo no fue tan bien recibido como su debut pero Clarke no se quedó de brazos cruzado, ya en 1992 con el Grunge explotado y todo el Glam Metal erradicado, era el año para lograr un exito en USA. "Salutation From The Ghetto Nation" apuntó a eso y en parte lo logró vendiendo más que el disco anterior pero opacado por nuevos como Pearl Jam entre otros.
Love Destruction
Ghetto Nation
Por entonces, Clarke se hartó de David Geffen, al quien acusó de favorecer a otras bandas como Nirvana o Guns 'N' Roses en vez de a ellos. En venganza, Clarke decidió grabar 2 discos al mismo tiempo. Uno experimental lejos de la comercialidad y otro dispuesto a triunfar. El que tuvo que fumarse Geffen fue "Chill Pill" de 1993, que sin ser un mal disco, se aleja bastante del sonido de la banda y no tiene un solo Single. Se destaca la participación del gran Michael Monroe en Saxo y Armónica en un par de temas.
Mars
High Road
La banda logra salirse de las garras de Geffen aunque en el camino se perdió a John Ricco pero se lo reemplazó con Alexander Arundel y Chriss Moffet. Moffett no duraría mucho en la banda y se iría con Evans. Arundel, McClanahan, Clarke y el nuevo baterista Scott Daboys terminarían dando forma a "The Space Age Playboys" de 1994. Uno de los mejores discos de Hard Rock de los 90's y un cambio más cercano al Punk de la banda con menos oscuridad. Discazo por donde se lo mire. El Guitarrista Peter Jay se uniría a la banda para promocionar el disco.
I Wanna Get Some
Let's Get Wasted
Anda a saber que le pintó a Kory para hacerse el peinado de Jane Fonda.
La banda logró girar bastante por Estados Unidos y Europa junto con Metallica en 1995pero no fueron los resultados esperados y todos los miembros de la banda se fueron dejando a Clarke solo. Clarke disolvió la banda tras ellos y para cumplir contrato en 1996 sacó "Odds & Ends". Un Disco que junta canciones no realizada de los 5 discos de la banda. Se reunen todos los ingredientes de la banda: El Hard Rock con urgencia adolescente del debut, el Metal Anarquico de "DN&TNR", el Punk Acido de "Ghetto Nation", la experimentación de "Chill Pill" y el sentimiento fiestero y menos serio de "The Space Age Playboys". Interesante recopilación.
NYC Girls
Tras ello, Clarke decidí fundar una nueva banda en 1997 llamada Space Age Playboys. La banda tenía justamente muchas reminencias al sonido de ese disco los Warrior Soul y solo sacaron un disco en 1999 llamado "New Rock Unerground" que pasó tan sin pena ni gloria (pese a no ser un mal disco) que Clarke decidió reacomodar sus ideas y reunión a Warrior Soul con la formación clásica de Ricco-McClanaham y Evans. La cosa no anduvo a pesar de grabar el disco "Classics" una regrabación de clásicos antiguos del grupo. La cosa no funcionó de todas formas y terminó con la banda disuelta, Ricco y McClanaham pasando al ostracismo, Clarke lanzandosé como solista y Mark Evans Asesinado (!!!).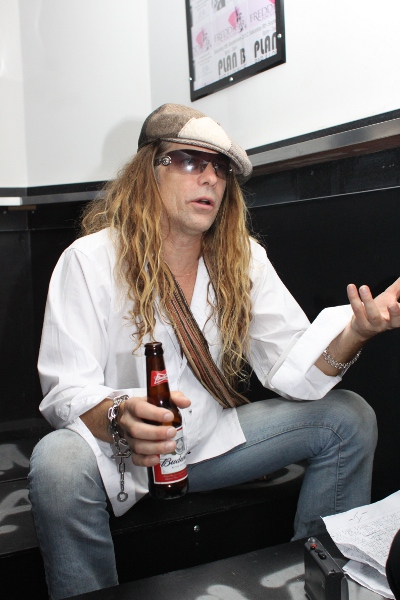 Viendo en retrospectiva, prefiero tocar en tugurios de mala muerte a tener un cadaver con los cesos volados como el Kurt.
Viendo que los 90's ya habían pasado, que no logró ser icono de absolutamente nadie y que ya no iba a ser una super mega estrella, Kory Clarke refunda Warrior Soul por el mero placer de seguir haciendo música. Y para 2009, con un tema renovado en mercenarios, sacó "Destroy The War Machine" retomando la cosa donde la dejó. En un Punk Rock Acido, sucio y macarra al mejor estilo Sleazy. Gran retorno aunque sin éxito alguno.
Fuck The Pigs
The Fourth Reich
No sé ni como se llaman pero posen que yo les pago algo después.
Lo último que han hecho Kory y sus muchachos fue el muy muy bueno "Stiff Middle Finger" en 2012. Un gran trabajo de una banda que ojalá pueda seguir grabando, o al menos que Kory pueda conservar algo de su ya muy maltrecha voz.
Junky Strippers
A Drink For All My Friends
Bueno, tengo menos kilos que Axl y Baz también. Al fin al cabo, llevo la vida de un triunfador.
Ficha Técnica
Kory Clarke - Voz
John Ricco - Guitarra, Guitarra Rítmica
Peter McClanaham - Bajo
Peter Ferguson - Batería
Mark Evans - Batería
Alexander Arundel - Guitarra
Discografía
1990 - Last Decade Dead Century
1991 - Drug, Nations And The New Republic
1992 - Salutation From The Ghetto Nations
1993 - Chill Pill
1994 - The Space Age Playboys
1996 - Odds & Ends
2009 - Destroy The War Machine
2012 - Stiff Middle Finger
En Vivo
2008 - Live In England
Recopilatorios
2001 - Classics