Primer gran día aquí en Brasil. Intensa actividad que nos dejó con ganas de más tras la bree ceremonia inaugural y el partido inaugural entre Brasil y Croacia. Pero mejor los dejo con Alina y Diamond Dave que les contaran con detalle lo sucedido.por aquí
Clash Of The Titans
A las 15:15 se empezó la ceremonia inaugural del evento. 30 minutos de la rutina más aburrida posible. Se trató de mostrar la naturaleza de toda la fauna y flora brasilera, su música y baile y su fútbol. Todo en un apático, triste y penoso intento. No hubo culos, no hubo joda y alegría y no se llevó a los 1001 cracks salidos de Brasil. Un Bodrio compacto a comparación del de Francia '98 por ejemplo. Ahora los dejamos con Glenn y David que tienen que contarles acerca del partido:
Yendo al partido, el local Brasil, pentacampeón del Mundo, recibía a Croacia (que había conseguido un histórico 3er puesto en Francia '98) en el partido que abría la 20° Copa del Mundo de la FIFA. Brasil no cuenta con un plantel lleno de estrellas como en otras épocas pero tiene a Neynmar como estandarte y además es el local. Croacia tiene una muy buena generación con Modric, Rakitic y otros jovenes valuarte.
Los Croatas dominaron el partido y hasta sorprendieron en Arena de Sao Paulo con un gol tempranero gracias a un error de Marcelo pero Brasil logró el empate gracias a Neymar y se fue al descanso más tranquilo. En el ST la cosa cambió radicalmente gracias a un penoso arbitraje del japones Nishimura. Bombeando descaradamente a los croatas y favoreciendo a los brasileros en foul, no expulsiones y hasta un penal que desnivelo el partido y le dio confianza a Brasil para liquidarlo 3-1 con un golazo de Oscar y terminar la historia. Este fue el resumen de la jornada de hoy.
Ahora las columnas de nuestros especialistas:
Rod Stewart y su sección "Blondes Have More Fun" con nuestra chica del día: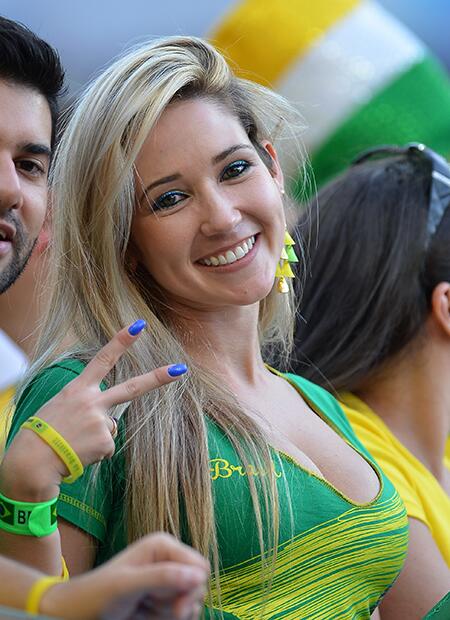 Esta garotinha generosa de aldabas y ahorrativa en telas se robó toda mi libidinosa mirada, iguel.
El señor Robert Plant y su sección "Every Inch Of My Approval" para lo mejor de la jornada:
Lo mejor del día de ayer fue la actuación de Luka Modric. Sobria, con el pase justo, metiendo, ordenando. Le damos el Golden Lock de la fecha.
El Sr. Dave Grohl y su sección "FUCK YOU" con lo peor del día.
La actuación penosa del arbitro Yuichi Nishimura que no expulsó a Neymar (goleador del partido), cobró un penal inexistente para Brasil, le anulo un gol licito a Croacia Y ME ARRUINO EL PRODE Y LA CON*Destruye un a Hello! Kitty deporcelana*
El Sr. Liam Gallagher y su sección "Look Back In Anger" con la imagen violenta del día
El Codazo criminal de Neymar es nuestra imagen violenta del día porque encima después generó una mini tángana.
Mick Jagger y su "You Can't Always Get What You Want": A Mick, ayer, lo mandamos bien temprano al estadio y presenció los primeros minutos del partido donde Croacia dominó bastante bien pero luego se tuvo que ir y volvió cuando el show de Nishimuri empezó.
Sorry Mr. Kovac But You Can't Always Get What You Want
Horarios para el día de hoy:
13:00 - Grupo A: Mexico Vs. Camerún (Natal)
16:00 - Grupo B: España Vs Holanda (Salvador)
19:00 - Grupo B: Chile Vs Australia (Cuiabá)
Y el tema del día, elegido por Jimmy Page es "The Rover" de sus Led Zeppelin. Hasta Mañana!