Día 17 del Mundial Brasil 2014 y arrancó lo que se llama el verdadero mundial: La fase final. Win or Go Home. Han comenzado los 8vos de Final del Mundial y David Lee Roth, Alina Moine, David Coverdale y Glenn Hughes nos contará lo sucedido en los 2 partidos de la fecha.
AGUANTE SEPULTURAAAAAAAAAAAAAAA
Brasil y Chile inauguraban los 8vos de Final en Belo Horizonte en uno de los duelos más prometedores de esta ronda. Chile cayó ante Brasil las otras 3 veces que logró avanzar de ronda en los mundiales y trataría de que la 4ta sea la vencida. Lo cierto es que el Local arrancó mejor que los trasandinos y por eso logró ponerse arriba por 1 a 0 pero luego fue todo del conjunto chileno, que logró empatarlo con Alexis Sanchez tras grosero error de Hulk. Chile estuvo cerca hasta los 80', donde terminó cediendo terreno ante Brasil que no pudo contra un Claudio Bravo brillante y tuvieron que jugar 30 minutos más que se cargaron al gladiador Gary Medel de inmenso partido. Brasil nunca estuvo cerca en el largue y Chile tuvo un tiro de Pinilla sobre la hora que pegó en el travesaño. Los penales se hicieron inminentes y ahí es donde apareció la figura de Julio Cesar para tapar 2 penales. Bravo logró detener el penal de Hulk y Willian le erró al arco pero Brasil terminó imponiéndose como siempre cuando JAra erró el 5to y definitorio penal contra el palo. Así Brasil dio un paso gigante en la busca del titulo en su tierra y frustró una vez más el sueño chileno.
TODOBIEN TODOBIEN
Colombia y Uruguay se enfrentaban en otro duelo sudamericano para ver cual de los 2 sería el de rival de Brasil en 4tos de Final. Colombia venía con una fase de grupos arrolladora y Uruguay cargaba con su mística del Mundial '50. Pero sin Luis Suarez, Uruguay se quedó en eso y fue abrumado por una Colombia brillante apoyada en el talento descomunal de James Rodriguez que marcó 2 golazos y liquidó el asunto a pesar de que los charruas lo buscaron y volvieron a Ospina una de las figuras. El conjunto de Pekerman hizo historia clasificando a 4tos por 1ra vez en su historia y Uruguay no pudo repetir la hazaña del 2010 y del 50. No habrá Morbo esta vez.
Ahora las columnas!
Rod Stewart y las chicas del día en "Blondes Have More Fun"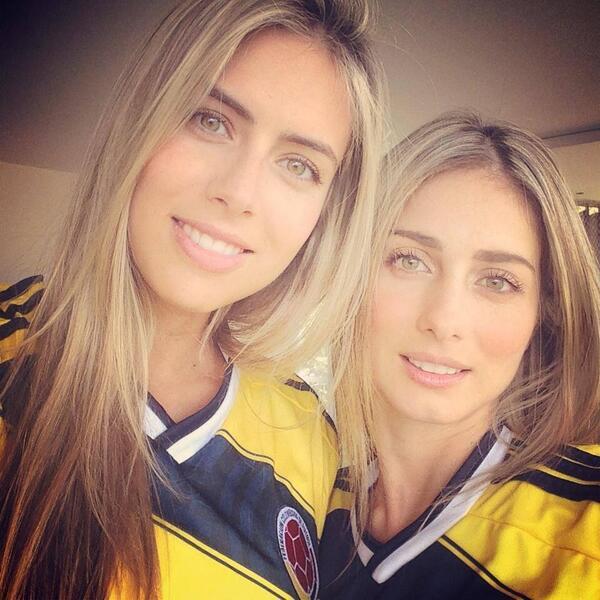 Las fanaticas colombianas son una de las muchas razones para que Colombia este haciendo historia este mundial.
Robert Plant da "Every Inch Of My Approval" con lo mejor del día
La actuación consagratoria de James Rodriguez que le dio el histórico pase a 4tos a su selección y además lo pone como el mejor jugador y el goleador del torneo con 5 tantos por el momento.
Dave Grohl y lo peor del día en "Fuck You"
El desafortunado día de Gonzalo Jara quien no jugó bien, se convirtió un gol en contra y erró el penal que eliminó a su chileno. PORQUE PATEASTE WEON? *Le tira el N°64 de Condorito*
Liam Gallagher y la violencia del día en "Look Back In Anger"
La gresca menor entre Gary Medel y Fred picó el partido más de lo que estaba.
Mick fue a ver a Uruguay-Colombia. Y les dejó la mística del 50 por los pisos.
Sorry U R Guay, But You Can't Always Get What You Want
Horarios Para Hoy
13:00 - 8vos de Final: Holanda Vs México (Fortaleza)
17:00 - 8vos de Final: Costa Rica Vs Grecia (Recife)
Y nos vamos con "Falling Apart At The Seems" de Cinderella. Hasta Mañana!