Pasada una semana ya del Mundial del Fútbol seguimos disfrutando de muy buenos espectaculos y de nuevos clasificados a los 8vos de Final de este sensacional mundial.
Foot, Footloose ♫
La selección Colombiana de José Nestor Pekerman jugaba contra la Costa de Marfil de Yaya Touré, ambos puntero del grupo C. En un partido duro, trabado, y sin muchas emociones, Colombia supo imponerse ante un tibio conjunto Africano que nunca logró un funcionamiento acorde a las expectativas. Colombia ya se encuentra en 8vos de Final mientras que Costa de Marfil necesitará ganar contra Grecia y que Colombia le de una mano con Japón
Fuck The British!
Uruguay e Inglaterra protagonizaron el partido de la fecha entre campeones del mundo y el partido estuvo muy a la altura. Lleno de situaciones, el 1er campeón mundial y que fue campeón en Brasil hace 64 años demostró su famosa garra charrua y se impuso ante los creadores del fútbol y campeones de 1966. Con doblete de Luis Suarez y el descuento de Wayne Rooney, Uruguay se dio vida para la última y casi liquidó el futuro de los ingleses que dependerán del resultado de Italia y Costa Rica para llegar con chances para clasificar a 8vos en la última fecha.
Acá vemos una escena de Karate Greek
Por otro lado, Japón y Grecia protagonizaron un embolate 0-0 que aburrió a todos y así los nipones dilapidaron sus chances de poder clasificar ya que no lograron alcanzar a Costa de Marfil y pusieron a Colombia a 8vos. Ahora, los asiaticos necesitaran ganarle a Colombia y mirar de reojo lo que pase entre Costa de Marfil y Grecia.
Ahora las columnas!
Rod Stewart y su "Blondes Have More Fun" con las chicas del día
Las fanaticas inglesas serán una gran perdida si mi patria madre se queda afuera, Miguel!
Robert Plant con "Every Inch Of My Approval" y lo mejor del día
El doblete heroico de Lucho Suarez para mantener con vida a Uruguay se lleva el Golden Lock del día de la fecha
Dave Grohl muestra su indignación con lo peor del día en "Fuck You"
El embolante 0-0 de Japón y Grecia que hace pensar seriamente PORQUE LE DAN PLAZAS A ESTA GENTE QUE TIENE LOS PIES REDONDOS *Estrella un jarrón griego y otro japones contra el suelo*
Liam Gallagher nos muestra la escena violenta del día en "Look Back In Anger"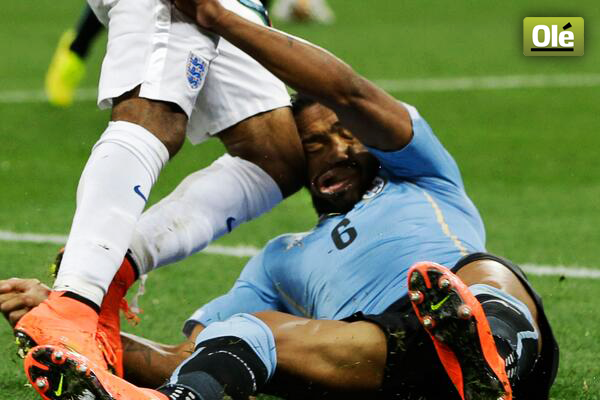 El rodillazo que dejó inconsciente a Alvaro Pereyra es nuestra imagen de VIOLENCIA ANAL del día
Mick fue a ver a su querida Inglaterra y creo que contra Costa Rica ni se aparecerá.
Sorry Steve, But You Can't Always Get What You Wants
Horarios Para Hoy
13:00 - Grupo D: Italia Vs Costa Rica (Recife)
16:00 - Grupo E: Suiza Vs Francia (Salvador)
19:00 - Grupo E: Honduras Vs Ecuador (Curitiba)
Y hoy Jimmy nos despide con "A Light In The Black" de Rainbow. Hasta Mañana!