Día 28 de Brasil 2014 y YA TENEMOS ARMADA LA FINAL. Señoras y señores, ARGENTINA, tras 24 años de ausencia, retorna a la final de una copa del mundo por la misma ruta que la última vez: Los penales y un Sergio que puso las manos como aquella mítica noche en el San Paolo. No hubo revancha del 78: Argentina está nuevamente en la final y Holanda sigue sin lograr su Mundial.
Argentina y Holanda revivían aquella final del Mundial 1978 en la tarde noche de Sao Paulo y dieron una semifinal como si fuera alguno de esos cruces entre Bobby Fischer y Anátoli Karpov. Una partida de ajedrez donde cada equipo movió sus piezas de la manera más cuidadosas. Argentina pareció ser más agresiva en la 1ra parte ante una Holanda que no presionaba y se preocupó por ser infranqueable ante lo embates de un Lionel Messi anulado a la perfección por el planteo de Lois Van Gaal. Por el otro lado, Arjen Robben tampoco pudo hacer uso de su desequilibrio ante una Argentina que lo rodeó bien y le impidió la llegada del pase limpio con un soberbio trabajo del Doble 5 y de la dupla central. Van Gaal parecía ganar esta partida acertando nuevamente con los cambios que hicieron que Holanda terminara mejor que Argentina en los 120' y en un estado físico impecable pero al final la jugada maestra contra Costa Rica que este partido no realizó le terminó pasando factura al experimentado DT. Argentina fue implacable en los penales ante un Cillessen que no asustaba y Romero atajó muy bien los remates de Vlaar y Sneijder erigiendose como la pieza que comió al Rey en esta apasionante partida de Ajedrez donde Argentina logró el pasaje a su 5ta final de una Copa del Mundo y nuevamente enfrentará a Alemania. La final más veces repetida en la historia de los Mundiales y que tendrá una 3ra edición tras la heroica consagración de Maradona y los suyos en el 86 y la derrota triste y desolada en el 90. Holanda tendrá que esperar 4 años más para pegar el grito que tiene atragantado hace 40 años.
Puntajes
1 - Romero: 10
4 - Zabaleta: 6
15 - Demichelis: 7
2 - Garay: 8
16 - Rojo: 7
6 - Biglia: 8
14 - Mascherano: 9
8 - Perez: 8
10 - Messi: 6
22 - Lavezzi: 4
9 - Higuaín: 5
18 - Palacio: 5
20 - Agüero: 4
11 - Rodriguez: 5
Ahora las columnas!
Rod Stewart nos muestra lo mejor después del partido: The Girls en "Blondes Have More Fun"
Holanda sigue implacable en este mundial. La mejor, lejos
Robert Plant y lo mejor de la semifinal en "Every Inch Of My Approval"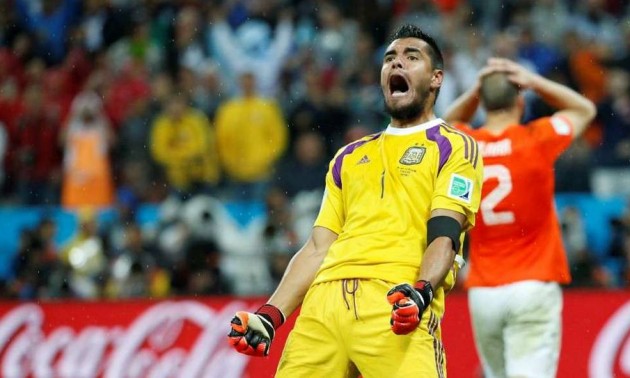 Sergio Romero se redimió de sus discutidas performances pre Mundial tapando 2 penales y dandole el pase a la final a la selección argentina tras 24 años de fracasos y decepciones.
Dave Grohl y lo peor del día en "Fuck You"
La pesima actuación de Robin Van Persie cuya ausencia en el área fue perjudicial para Holanda.
Liam Gallagher y la violencia de un partido limpio en "Look Back In Anger"
La terrible murra de Martín Demichelis a Wesley Sneijder que condicionó al 10 holandes que falló un penal clave en la definición.
Mick fue a las tribunas holandesas y lo mandamos estrategicamente en los penales. Nos salió genial.
Sorry Guys, But You Can't Always Get What You Want
Mañana analizaremos las semis y los partidos que se vienen. Los últimos 2 de este mundial que no queremos que termine más. Nos vamos con "Resurrection" de Brian May. Hasta Mañana.