ÚLLLLLLLLLLLLLLLLLLLLLLTIMO DÍA DE COMPETENCIA AQUÍ EN BRASIL 214. ES EL DÍA DE LA FINAL. HOY ARGENTINA Y ALEMANIA DEFINEN CARA A CARA QUIEN SE LLEVARÁ EL MEJOR MUNDIAL DE TODOS LOS TIEMPOS. Pero antes! El repaso por lo que fue la jornada del partido del 3er puesto donde Holanda le propinó un nuevo golpe a Brasil bailandolo por 3-0 y subiendose a ese lugar del podio por 1ra vez en su historia.
GUYANAS POWER
Brasil y Holanda jugaban el 3er puesto tras caer en la semifinales. El pentacampeón y local cayó de manera vergonzosa y humillante contra Alemania por 7-1 y Holanda se quedó afuera por penales frente a Argentina. En Brasilia, el conjunto de Van Gaal demostró porque fue de lo mejor de esta Copa del mundo y le propinó un 3-0 desmoralizador al conjunto de Scolari hiriendolo al minuto de juego con un penal que Van Persie cambió por gol. Luego Brasil fue total desconcierto por 89 minutos, dejándole regalos como el despeje al medio que dio David Luiz y Daley Blind bajó con total clase y la clavó en un angulo para poner 2-0 en solo 18 minutos. Tras ello, Holanda manejó en paz el partido y lo liquido con un gol de Witjnaldum para el 3-0 final y el 3er puesto que es lo primero que gana Holanda en mundiales. Interesante futuro le espera a esta selección holandesa que fue el fin de ciclo para algunos y el inicio para una generación que puede derivar en ese titulo tan esperado en 2018.
Ahora, las columnas!
Rod Stewart y las mejores chicas en "Blondes Have More Fun"
El Plantel de Holanda ya se lleva lo mejor del mundo con sus chicas. Nuestros ganadores sin dudas.
Robert Plant y lo mejor del día en "Every Inch Of My Approval"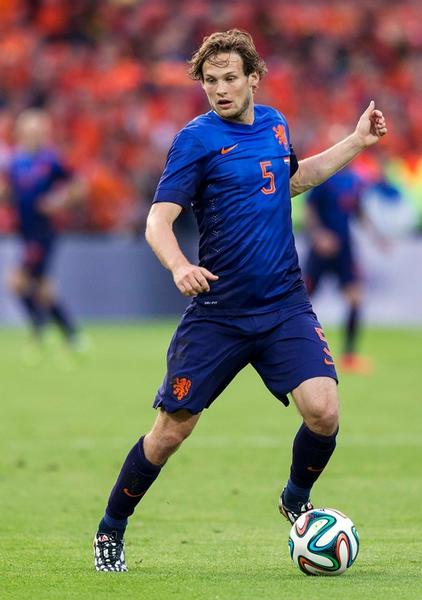 La brillante actuación de Daley Blind, uno de los mejores jugadores del mundial, consagrando su excelente mundial con un golazo frente a Brasil para darle el 3er puesto por primera vez en la historia a Holanda.
Dave Grohl y lo peor del día en "Fuck You"
La estrepitosa caída de David Luiz que pasó de ser el mejor defensor del mundial y candidato al Balón de Oro a ser un desastre enloquecido y el principal responsable de la derrota brasilera frente a Holanda. ANDA A LLORAR A LA CONCHA DE TU VIEJA, CASTO HIJO DE P*Revolea feijoada*
Liam Gallagher y la violencia en "Look Back In Anger"
La violencia Psicológico que significo que Holanda le cambie el arquero a Brasil tras el 3-0 duele más que cualquier patada que hayamos visto en esta sección.
Mick fue a ver el partido y sigue trayendo desgracia para Brasil.
You Can't Always Get What You Want, Guys. Sorry.
Horarios para Hoy
16:00 - Final: Alemania Vs Argentina (Rio de Janeiro)
Y nos vamos con "Time For Heroes" de The Libertines. Hasta Mañana!