Último mes del año y última edición del 2014 de nuestras novedades musicales. Muy poco material a estas alturas del año pero tuvimos un último bombazo de un gigante del Rock y ademas repasamos cosas que quedaron colgadas de este año.
Lo haremos desde la playa a esto, boys. Tenemos unos espectaculares estrenos y otras cositas para enseñarles
Tras una espera de 6 años, AC/DC ha vuelto al ruedo con "Rock Or Bust". A pesar de todos los problemas con Malcolm y Phil Rudd, Angus Young demostró por qué es uno de los mejores riffmakers de la historia y ha sacado un discazo de Hard Rock AC/DCiano clásico. Todo está en su lugar, los estribillos memorables, la agudisima voz de Brian Johnson que está bastante bien o el estudio ha hecho maravillas porque suena mejor que en "Blow Up Your Videos"! Y Angus está afiladisimo en lo suyo. AC/DC demostró que siguen siendo la banda por antonomasia del Rock y que siempre estará para darnos alegrias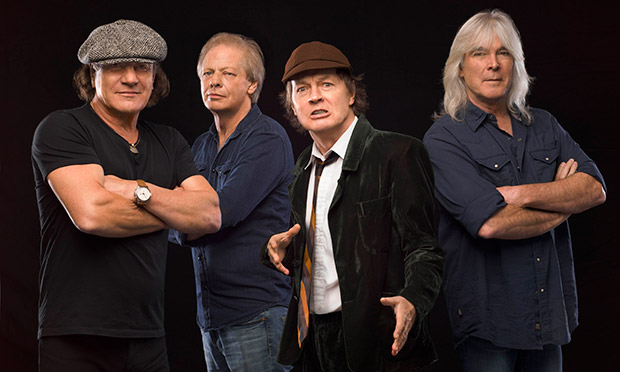 Qué? no te cabe el disco nuevo? empezá a correr porque te mató
Otro gran retorno de este año fue el de redneck favorito de este blog: Ted Nugent, quién volvió con un gran disco llamado "Shutup & Jam", el mejor disco de Ted desde aquel fenomenal "Spirit Of The Wild" de 1995. Aquí también está Derek St. Holmes pero no canta siempre y ademas tiene la participación de Sammy Hagar aportando su voz en una canción. No le de bola a sus comentarios mata negros y bufalos, Ted Nugent es solo Rock y es lo único que debe importar
Derek St. Holmes entró en la categoría de hombres androides
The Empty Hearts es el supergrupo formado por el bajista de The Chesterfield Kings, andy Babiuk junto al guitarrista y cantante de los Romantics, Wally Palmar, el guitarrista de los Cars Eliott Easton y el baterista de Blondie Clem Burke. Y pasó desapercibido por no tener ningún nombre realmente poderoso pero ha tomado relevancia como el último disco que grabó el gran Ian McLagan, el recientemente fallecido ex tecladista de Small Faces, The Faces y The Rolling Stones. Es un gran disco que mezcla el Garage americano con las melodias Mod inglesas. Descomunal joyita para descubrir.
Mod(o) God Like
Nuestros encabezados cierran con el anuncio y el primer adelanto del primer supergrupo confirmado para 2015: Revolution Saints. Un Power trío formado por el baterí Deen Castronovo (Trotamundos musical que trabajó con Journey y entre otras cosas, grabó en el "Ozzmosis" de Ozzy Osbourne en 1995), el bajista Jack Blades de Night Ranger y Damn Yankees, y en las guitarras, nuestro querido Doug Aldrich de Whitesnake, DIO, Hurricane y actual Burning Rain. Un grupo con obvias y claras influencias AOR pero que Aldrich se encarga de elevar a un lugar no tan almidonado con sus riffs y solos. Esperaremos el resultado total de esta interesante propuesta.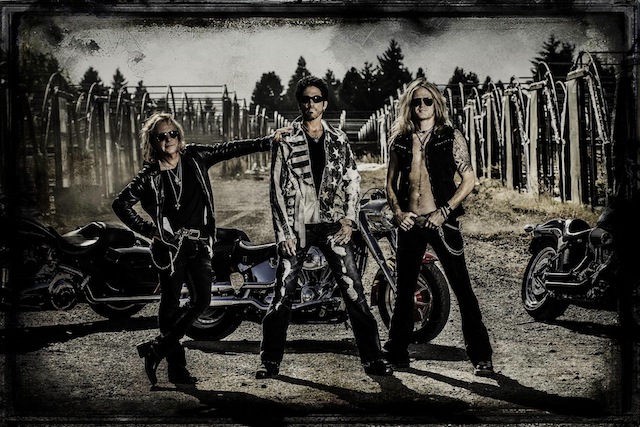 Lo señora que te vuelve el AOR, por favor. Miren
En nuestra sección de varios, Richie Kotzen nos ha regalado dos nuevos temas solistas llamados "Cannibals" y "You" sumandose a "War Paint" y "Walk With You" a su lista de estrenos de 2014 para palear la espera de lo que será el 2015 con Winery Dogs.
Bandas a descubrir: Wild Adriatics y su disco "Big Suspicious", espectacular debut de este trío de
Hard Rock Clásico lleno de Blues y Soul. También tenemos a Spiders y su impresionante "Shake Electric" con un candente cantante cantando sobre Glam Rock potente y adictivo.
Para cerrar, Ese ingerto surgido de las cenizas de Thin Lizzy y que tanto nos gustó, Black Star Riders adelantó "The Killer Instinct" de su inminente 2do disco que saldrá en 2015. También UFO anunció nuevo trabajo para el año que viene "A Conspiracy Of Stars" como sucesor de aquel fantastico "Seven Deadly" de 2013. Por últimos, Scorpions anunció también un nuevo disco "Return To Forever" y adelantó un single "We Built This House" muy al estilo Scorpions de la era Matthias Jabs.
Grupo Sombras, "Vivo en Pasión de Sabado", 1996
Y hablando de los alemanes, hoy nos toca una canción del grupo de Klaus Meine para cerara el 2014 de Grandes Canciones y nos embarcaremos en la subvalorada y casi olvidada etapa de Uli Jon Roth, uno de los discipulos mas directos de Jimi Hendrix. Hoy recordamos su sello en Scorpions con un clásico de su últimos disco en la banda: "We'll Burn The Sky"
Escrita por Rudolf Schenker y Monika Dannemann en en el Verano Europeo de 1977, esta canción tiene una interesante historia: Es una oda a Jimi Hendrix escrita por Monika, última mujer del guitarrista y luego conyuge de Uli Jon Roth por diecisiete años. La canción es la mas sobresaliente del disco "Taken By Force" de los Scorpions y un emblema de la era Roth ya que rara vez fue tocada después de la salida del Guitarrista. La canción se divide en Intro, 1ra Parte, Punete, 2da Parte, 1er Solo de Guitarra, 2do Puente y Outro/2do Solo de Guitarra
Intro (0:00 - 0:17)
Una suave guitarra arpegiada y lamentos nos adentra del tema hasta que entra la suave voz de Klaus Meine para la...
1ra Parte (0:17 - 1:57)
Klaus recita suavemente el poema de Mónica que dice estar enamorada del brillo del sol y de la lluvia, que todo parece oír como su nombre y que recién ayer se iba de la vida dejando todo su dolor. Todos piden que vuelvas. Tras ellos, Rudolf Schenker entra un pegajoso y crujiente Riff de guitarra donde Klaus duplica su voz para decirnos que en el poema Mónica se encuentra a través de Jimi y que había amor en su vida, que no tenía que esconderse porque su amor tenía un hogar. Pero que ahora su mente empezaba a rugir, que él era su vida dándole fuego y cargando todo su amor, que a través de él ella estaba tan inspirada y él estaba tan profundo en su corazón. Un poderoso grito de Meine lleva la canción al...
Puente (1.57 - 2:30)
Los coros armoniosos comandado por la arrolladora voz de Klaus se funde entre las guitarras pasionales de Roth haciendo un incendio que se va apagando hasta desembocar en la....
2da Parte (2:30 - 4:16)
Aquí Klaus recita de manera suave la parte del poema donde Mónica recuerda la relación con Jimi en sus sueños para mantenerse caliente, que lo busca para liberarse, para la fuerza de vivir que tenía y que se siente muy desolada desde su partida. Y en un ruego desesperado diciendo que era el aliento de su vida rindiendola pregunta: ¿Cuándo puedo reunirme con vos para volver a ser libre?. Un minimosilencio se hace para que Schenker meta su poderoso riff y Klaus cambia el discurso diciendo que esto quizá fuera un sueño, que una voz le dice que no hay necesidad de estar triste ni de llorar, que hay una manera de estar con él de nuevo, es mas de lo que tenemos en realidad porque a pesar de que las nmuerte nos pueda apartar, nuestro amor interminable seguirá creciendo porque es mi otra parte. Ese emocionante y entrañable momento desemboca en el...
1er Solo de Guitarra (4:16 - 4:43)
Roth mete esas guitarras de Adagio tremenda en un solo apasionante y brutal que emociona y enciende al oyente. Todo este intenso pase se apaga en el....
2do Puente (4:43 -5:19)
Aquí Klaus Meine demuestra por qué es uno de los mejores vocalistas del Rocky el Metal pasando de delicados tonos cantando que nunca estará apartado y que su amor prende fuego su corazón mientras se llena la garganta de poder y pasión diciendo que el cielo arderá cuando llegue su hora final. Eso desencadena en un extasis final desembocando en el...
Outro/2do Solo de Guitarra (5:19 - 6:26)
Uli Jon Roth se despide de los Scorps con un solo antológico, mítico, épico y descomunal donde muestra porque es uno de los mejores de la historia para sus pares y porque debe tener mayor reconocimiento del que goza. Así termina uno de los mejores tema de los alemanes mas famosos del Rock y una de las etapas mas gloriosas de dicha música, tras esto, los Scorpions se dedicarían a otra calase de Rock menos épico y mas directo.
Letra
La letra es un poema de Mónica Dannemann dedicado a sus último días de relación con Jimi Hendrix. Muchos dicen que todo esto es una falacia, y que Mónica era una oportunista que buscaba vivir de la muerte de Jimi y hasta incluso se la acusó de haberlo asesinado (!), cosa que nunca sabremos porque la groupie pasó a mejor vida tiempo después al suicidarse aspirando gases del auto. De cualquier manera, la letra es muy bonita y todos deberían leerla.
I'm in love with the sunshine
I'm in love with the fallin' rain
Everything seems to call your name
Yesterday you were leavin'
Leavin' life and all your pain
Everything wants you back again
Wants you back again
Wants you back again
I found myself through you
And there was love in my life
I felt there was nothing to hide
And my love had a home
But now my mind has started to roam
You're my life giving fire
And you carry all my love
Through you I was so inspired
You're engraved deep in my heart
Heart, heart, heart
My dreams recall us being warm
I've searched for you to be free
The force of life you have always been
I feel blue since you're gone
You're breath of life surrounded me
When can I join you to be free
Join you to be free
Join you to be free
Wait, can this be a dream
There is a voice in my head
It belongs to you, it says
Don't cry, no need to be sad
There's a way to stay with you again
It's more than you ever had
And though death brings us apart
Our timeless love always grows
Because you are my other part
I know we've never been apart
Your love sets fire to my heart
We'll burn the sky
When it's time for me to die
We'll burn the sky, oh yeah
We'll burn the sky, oh yeah
When it's time, time, time
We'll burn the sky
We'll burn the sky, oh yeah
En Español
Estoy enamorado con el sol
Estoy enamorado con la lluvia cayendo
Todo parece llamar a tu nombre
Ayer fuiste dejando
Dejando la vida y todo su dolor
Todo lo que tú quieres de vuelta otra vez
Quieres de vuelta otra vez
Quieres de vuelta otra vez.
Me encontré a través de ti
Y no había amor en mi vida
Sentí que no había nada que ocultar
Y mi amor tiene un hogar
Pero ahora mi mente empezó a vagar
Tú le diste a mi vida fuego
Y te llevaste todo mi amor
A través de ti estaba tan inspirado
Estás profundamente grabada en mi corazón
Corazón, corazón, corazón
Recordar mis sueños siendo tibios
Te he buscado para que poder ser libre
La fuerza de vida que siempre has sido
Me siento azul, desde que te fuiste
Tú eres el aliento de la vida a mi alrededor
¿Cuándo puedo unirme a ti a ser libre?
Unirme a ti a ser libre
Unirme a ti a ser libre
Espera, puede ser esto un sueño
Hay una voz en mi cabeza
Pertenece a ti, que dice
No llores, no hay necesidad de estar triste
Hay una manera de estar contigo otra vez
Es más de lo que siempre tuviste
Y aunque la muerte nos lleva aparte
Nuestro amor eterno siempre crece
Porque tú eres mi otra parte
Sé que nunca has estado aparte
Tu amor establece fuego a mi corazón
Vamos a quemar el cielo
Cuando es la hora de que yo muera
Vamos a quemar el cielo, oh sí
Vamos a quemar el cielo, oh sí
Cuando sea el momento, tiempo, tiempo
Vamos a quemar el cielo
Vamos a quemar el cielo, oh sí
En Vivo
El tema ha sido muy pocas veces tocado por la banda, solo se tocó el último tour con Roth, el del retorno de Schenker y el 1ro con Jabs. Después solo hay performances aisladas en los 80's y 90's y recién volvió a aparecer en el 2000 con el concierto de la Filarmonica de Munich y la reunión con Roth y Schenker en Wacken 2006. Actualmente forma parte del set regular de la banda.
Live Tokyo Tapes 1978
Live Paris 1979 (W/Michael Schenker)
Live Reading 1979
Live Hammersmith Odeon 1982
Live 1997
Live Philarmoniker 2000
Live Wacken 2006
Live Lisboa 2014
Live Uli Jon Roth
Live Michael Schenker Group feat Uli Jon Roth
Ficha Técnica
Nombre: We'll Burn The Sky
Duración: 6:26
Genero: Balada, Hard Rock, Metal Neo Clásico
Productor: Dieter Dierks
Discografía: RCA
Fecha de Grabación: Junio-Octubre 1977
Salida al Mercado: 3/12/77
Músicos:
Klaus Meine - Voz, Coros
Uli Jon Roth - Guitarra, Coros
Rudolf Schenker - Guitarra Rítmica, Coros
Francis Buchholz - Bajo, Coros
Herman Rarebell - Batería, Coros