Hay bandas en la historia del Rock que a pesar de estar hace años en la industria siempre pasaron desapercibidos . Casos como el de Uriah Heep, Michael Monroe, Robin Trower, Monster Magnet o Richie Kotzen, Gente como esta lleva 50, 40, 30 o 20 años ahí metida en este mundillo aportando muy buenas cosas y a gatas ha sido reconocida por las masas o siquiera la critica. Hoy cerraremos el segmento de bandas con una de esas bandas: Los Mudhoney de Mark Arm pasaran por el blog para darnos una breve pasada por todo lo que fue el Grunge.
La historia de Mudhoney se inicia a principios de los 80's cuando Mark Arm y Steve Turner coincidieron en las bandas Mr. Epp And The Calculations y Limp Recherds entre 1981 y 1984. Tras ello, sus caminos se fueron separaron y si volvieron en juntar en la banda fundacional del Grunge, Green River, junto a Jeff Ament, Stone Gossard y el baterista Alex Vincent. Turner dejaría la banda siendo reemplazado por Bruce Fairwheather. Tras 2 EP y 1 disco, Green River (quién ya formaba parte de una escena naciente en Seattle con Malfunkshin, Screaming Trees, Love Battery, Soundgarden y Skin Yard), dejando sembrada la semilla del Grunge. Fairwheater iría a Love Battery, Gossard y Ament fundarán Mother Love Bone y Mark Arm volvería a juntarse con Turner de manera definitiva en su nueva banda: Mudhoney junto al baterista Dan Peters y el ex bajista de los Melvins Matt Lukin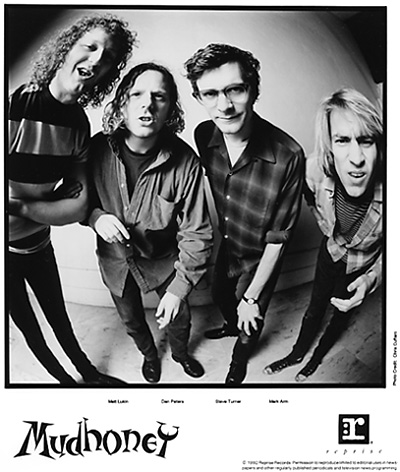 Claramente Steve no se sentía extrañado por la presencia de camaras.
La banda lanzó su EP/disco debut "Superfuzz Bigmuff" el mismo año de su fundación con la ayuda del legendario sello SubPop. Este disco fue el primer indicio del Grunge del que se percató el mundo. Antes que Sounfdgarden, antes que Alice In Chains, antes que Nirvana, antes que Pearl Jam, llegó Mudhoney con esta roñosa muestra sonora producida por el gran Jack Endino
Touch Me, I'm Sick
You Got It (Keep It Out My Face)
La banda continuó su camino lanzando su disco formal homonimo al siguiente año otra vez con la ayuda de Endino y SubPop, la calidad de canciones baja a comparación de lo encontrado en el otro disco pero sigue siendo excelente material para escuchar y tener.
When Tomorrow Hits
When Tomorrow Hits
Paradojicamente, Mudhoney se alejó parcialmente de su sonido Grunge cuando este saltó a la fama y quizá esa fue la razón por la cual el brillante "Every Good Boy Deserves Fudge" de 1991 no recibió todo el tratamiento que necesita. Un album con un sonido mucho mas rico, con mas instrumentos y una producción mas nitida. Mudhoney at its peak.
Let It Slide
Broken Hands
El suceso del Grunge los obligó a mudarse de SubPop a un sello de mayor calibre como era Reprise y en su debut, Mudhoney soltó ese sentido "Piece Of Cake" otro muy buen disco que no fue vendido y anunciado como corresponde y se volvió un clásico de culto para los fanaticos de la banda.
Suck You Dry
No End In Sight
Vamos a simular que estamos de fiesta toda las noches porq eu el Grunge nos hizo millonarios. Pongamos anteojos de sol.
Mudhoney fue la primer piedra del Volcán de Erupción que venía de Seattle pero cuando la Ola alcanzaba su mayor punto, ellos ni siquiea amagaron con surfearla, de hecho se acordaron para 1995 de volver al sonido Grunge en el subvalorado "My Brother The Cow". Un disco donde Mudhoney pudo equilibrar la la perfección su nnuevo sonido y el Grunge pero ya era demasiado tarde.
Judgement, Rage, Retribution & Thyme
F.D.K.
Para fines de década, Mudhoney gozó de bastante éxito por su aparición en "Black Sheep" la comedia de Dave Spades y Chris Farley y con ese envión lanzaron el disco "Tomorrow Hit Today" de 1998 donde Mudhoney aventura su sonido Garage/Grunge en las filas del Blues en el mejor estilo The Stooges.
A Thousand Forms Of Mind
I Have To Laugh
Ya en el nuevo milenio, Miudhoney comenzaba una nueva era con el bajista Guy Maddison reemplazando a Matt Lukin y yendose de Reprise para volver a SubPop y grabar su 7mo disco "Since We've Become Translucent" en 2002, una simplificación del sonido de la banda alejandose del Grunge para hacer mas straight-ahead Rock, aunque las incursiones en el Blues, Psicodelia y Funk siguen ahí.
Baby, Can You Dig The Light?
Where The Flavor Is
Tras meter giras por todo el mundo durante 4 años, Mudhoney volvía al estudio para gfrabar su 8vo disco "Under A Billion Sun" que muestra a un Mark Arm mucho mas maduro en la composicion, con letras inteligentes y una música mas ajustada y dura. Excelente disco.
Hard-On For War
Where Is The Future?
Mark Arm le está consumiendo la juventud a los otros
Para 2008, Mudhoney cumplía 20 años en la ruta y era la banda mas longeva del movimiento Grunge en actividad (Y la única con Pearl Jam y Stone Temple Pilots) y decidió festejarlos sacando el disco mas rocoso desde sus primeros 3 discos. Incluso se trajo al bueno de Jack Endino para lograr eso aunque se terminaron decantado por Tucker Martine quién izo un esplendido trabajo en "The Lucky Ones", un back to basic impecable de la banda matriarca del Grunge.
The Lucky Ones
What's This Thing
Lo último que supimos de la banda fue en lanzamiento de su último disco "Vanishing Point" donde Mudhoney se renueva como la banda por excelencia del Grunge y de Seattle con una nueva colección de clásicos.
I Like It Small
Sing This Song Of Joy
Como los viejos vinos, only gets better with age
Ficha Técnico
Mark Arm - Voz, Guitarra, Guitarra Rítmica, Guitarra Acústica, Organo Hammond
Steve Turner - Guitarra, Guitarra Rítmica, Guitarra Acústica, Slide Guitar
Matt Lukin - Bajo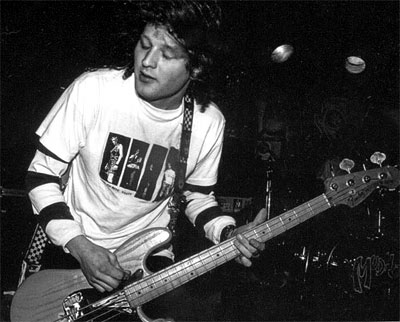 Dan Peters - Batería, Percusiones
Guy Maddison - Bajo, Coros
Discografía
1988 - Superfuzz Bigmuff
1989 - Mudhoney
1991 - Every Good Boy Deserves Fudge
1992 - Piece Of Cake
1995 - My Brother The Cow
1998 - Tomorrow Hit Today
2002 - Since We've Become Translucent
2006 - Under A Billion Suns
2008 - The Lucky Ones
2013 - Vanishing Point
En Vivo
1993 - Mudhoney Live
2007 - Live Mud
2014 - Live At Third Man Record
2014 - On Top! KEXP Presents: Mudhoney Live On Top Of The Space Needle
Recopilatorios
2000 - March To Fuzz
2000 - Here Comes Sickness: The Best Of The BBC