Día 10 aquí en Chile y hoy vivimos el cierre del Grupo B donde Argentina logró clasificar como 1ro con 7 puntos tras vencer a Jamaica mientras que Uruguay y Paraguay también se clasificaron a los 4tos ctras empatar 1 a 1.
Uruguay y Paraguay llegaban a la última fecha con distintas pero parecidas realidades: El actual campeón contaba con 3 puntos y bastante chances de clasificar, mientras que Paraguay estaba clasificado con 4 tras los resultados de ayer en el grupo A. En un partido discreto, Uruguay se ponía en ventaja con gol de Gimenez pero luego de eso, Lucas Barrios empataría para Paraguay antes de culminar la primera parte. El ST estuvod e mas y ambos equipos terminaron clasificados a octavos, Paraguay como 2do hasta entonces y Uruguay como mejor 3ro y ya le quedaba asignado un rival en 4tos: Nada mas y nada menos que el Local Chile en un duelo de alto voltaje.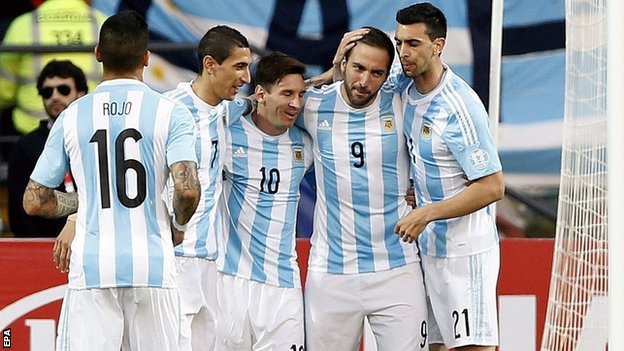 Argentina cerraba el grupo B sabiendose ya clasificada y poniendo algunos suplentes contra la selección de Jamaica, que necesitaba ganar si o si para tener una ínfima chance de clasificación.Argentina se puso rápido en ventaja con un gol de Gonzalo Higuaín a lo 10 minutos pero luego de desperdiciar varias chances de gol ,la selección mostró una desidia y conformidad desesperante ya que nunca liquidaba el partido y hasta dejó crecer a Jamaica que lo temrinó angustiando al final. Floja (otra vez) actuación de los de Martino que siguen sin brillar y esperan rival en 4tos, esperemos que con mejores rendimientos y un Messi bein acompañado.
Puntajes
1 - Romero: 6
4 - Zabaleta: 6
2 - Garay: 6
15 - Demichelis: 5
16 - Rojo: 5
14 - Mascherano: 5
6 - Biglia: 6
21 - Pastore: 6
10 - Messi: 5
7 - Di María: 4
9 - Higuaín: 7
8 - Pereyra: 3
18 - Tevez: 5
20 - Lamela: 5
Y ahora las columnas!
Rod Stewart trae bellezas desde las tribunas en "Blondes Have More Fun"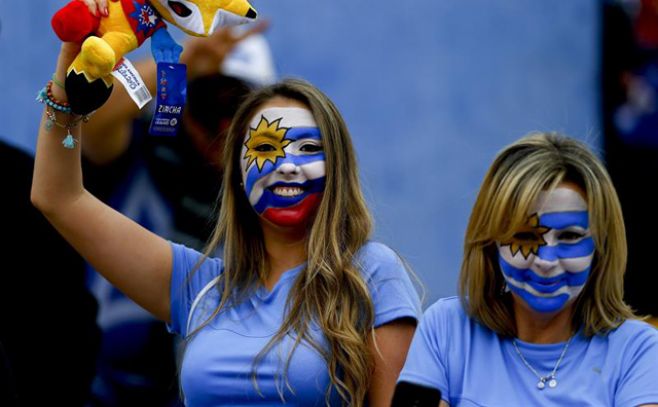 Las uruguayas gritaron presente para darle eempujón final al equipo hacia los 4tos de Final
Justin Hawkins y lo mejor de la jornada en "I Believe In A Thing Called Goal"
Paraguay, que a pesar de encontrarse en épocas de Malaria pasó 2do e invicto de un grupo donde tenía que enfrentar a 2 gigantes como Uruguay y Argentina, que fueron amargados por Lucas Barrios, su goleador.
Lo peor de la jornada en "Black Sheep Of The Date" con Ritchie Blackmore
El encualquierado planteo de Gerardo Martino, otra vez pésimo donde Argentina jugó mal, sobrando y sufriendo con JA MAI CA. ¿Encontrará Martino el funcionamiento acordado antes de que sea demasiado tarde?
El lujo de la fecha con Jarvis Cocker en "Pink Glove": La rabona de Marcos Rojo sin dudas es uno de los mas pintorescos momentos de la fase de grupos.
"Hooligans & Alcohol" la violencia nuestra de cada día, por Liam Gallagher: El Jamaiquino que le pegó a Pastore mas duro que lo que le pegaba a Bob Marley cuando era Esclavo y fumaba (?)
Mick hinchó por Jamaica toda la copa por sus fallecidos amigos de ahí y las consecuencias fueron ser el único eliminado con 0 puntos y y 0 goles a favor.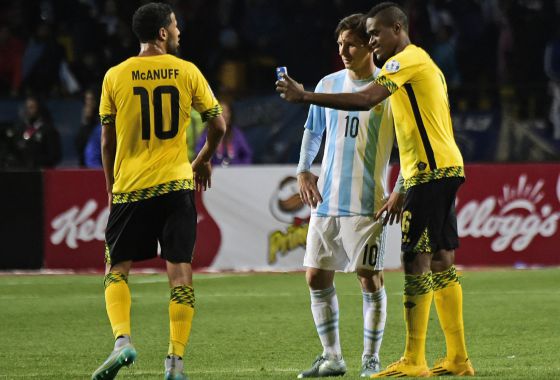 You can't always get the pass for the next round but it's harder to get a Messi's Selfie
Y nos despedimos con "Sweet Leaf" de Black Sabbath. Hasta Mañana!