Día 8 en la Copa América y se cerró la 2da rueda de partidos de Fase de Grupos, donde Perú le ganó a Venezuela y puso las cosas ARDIENTES ARDIENTES ARDIENTES en el Grupo C donde todos están con 3 puntos y la última fecha será una masacre que sonrojaría a Game Of Thrones
Peru y Venezuela pasó de ser un partido poco atractivo a tener un gran condimiento tras los sucesos del día de ayer con la victoria de Colombia y la victoria de la Vinotinto sobre los cafeteros la fecha pasada. Por eso, si ganaba el conjunto del Tigre Gareca pondría a todos con 3 puntos y deja´ria una definición para el infarto el domingo.
En un partido discreto, pero donde Perú fue claramente mas (aprovechando el hombre de mas que tuvo casi todo el partido) y logró un merecido triunfo cuando su capitan Claudio Pizarro la mandó a guardar y selló el 1-0 definitivo.
Ahora, ambos equipos buscarán el batacazo la fecha que viene cuando enfrenten a los favoritos Brasil y Colombia. Todo puede ser en el Grupo de la Muerte de esta Copa América
Y ahora las columnas!
Rod Stewart y sus mujeres en "Blondes Have More Fun"
Perú trajo un gran arsenal femenino que hicieron mas frente que los Incas ante las tropas de Pizarro
Justin Hawkins y lo mejor del día en "I Believe In A Thing Called Goal"
El eterno goleador Claudio Pizarro que volvió a la titularidad en la selección y puso a su selección en carrera por alcanzar los 4tos de Final.
Lo peor del día con Ritchie Blackmore y "Black Sheep Of The Date"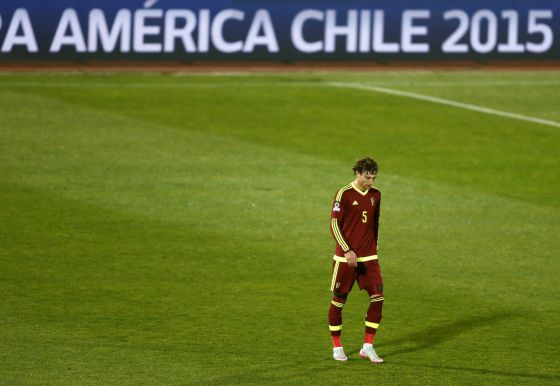 La infantil y estúpida expulsión de Amorebieta que dejó a su equipo con 10 y le facilitó el trabajo a Perú.
El lujo de la fecha con Jarvis Cocker en "Pink Glove": El sombrero deluxe de Ascues para salir frnete a Rondón.
:
La patada de la fecha en "Hooligans & Alcohol" con Liam Gallagher:
Mick fue de pasada a ver el partido, comprando Vinos Tintos y bueno, los de Perú festejaron
Sorry Winos, but you can't always get what you want.
Horarios para hoy
18:00 - Grupo A: Ecuador Vs México
20:30 - Grupo A: Chile Vs Bolivia
Y hoy nos vamos con "Me & My Wine" de Def Leppard. Hasta Mañana!