Arrancamos Octubre, ya estamos llegando a fin de año otra vez. Y en Octubre tenemos varias cosas para mostrarles: La definición del Torneo Argentino 2015 con Boca en visperas de un nuevo titulo Temperley a punto de permanecer un año mas en la primera. Las semis de la Copa Argentinas. Una canción de Pearl Jam. Discos de Ocean Colour Scene, Super Furry Animals y Manics Street Preachers. Los mejores discos de 1994 y en el rubro bandas seguimos ahondando en los callejones de la Sunset Strip con las bandas que iniciaron el movimiento del Glam Metal. Y la inauguramos con una que está siendo noticia por estos días y fue de las mas icónica de la escena: Los Twisted Sister del enorme Dee Snider pasaran por el blog para rockearte como solo ellos saben.
La historia de Twisted Sister nos remonta a 1972 cuando el guitarrista John Segall responde al aviso de una banda buscando ser algo así como los New Jersey Dolls pero llamados Silver Star. En esta banda se encontraba Mel Anderson (hermano de Al Anderson, por entonces el guitarristas de los Wailers de Bob Marley) quién le sugirió a Segall que cambie su nombre a Jonny Heartbreaker para parecerse aún mas a la banda de Johnny Thunders y David Johansen. John, a cambio, sugirió que la banda cambiara su nombre por el de Twisted Sister y que con ello venga un cambio de estética. Así la banda estuvo 4 años para acomodarse definitivamente hasta que en 1976, con la suma del guitarrista Eddie Ojeda y el cantante Dee Snider, Anderson y el ahora renombrado Jay Jay French empezarían a girar por los clubes neoyorquinos con un nuevo estilo músico mucho mas pesado y centrado en Alice Cooper (Snider adquirió una personificación de travesti en el escenario para hacerle referencia al concepto de Twisted Sister), Led Zeppelin, AC/DC y KISS. La banda se hizo un nombre importante en el under de la gran manzana, arrastrando un montón de público pero sin atraer a nadie de la industria. Así pasaron 6 años (donde se sumarían a la banda el bajista Mark "The Animal" Mendoza y el baterista AJ Pero en reemplazo del fundador Mel Anderson) hasta que la banda se embarcara a Inglaterra (donde la NWOBHM estaba en su mejor momento), consiguiera su contrato discográfico y grabara su disco debut "Under The Blade" del año 1982, producido por el legendario Pete Way de UFO (y por entonces Fastway).
Tear It Loose
Run For Your Life
Cómo distinguir a Beatriz Salómón de alguno de ellos?
Twisted Sister salta a la escena gracias a ser teloneros de Motörhead en su mejor momento y eso les facilita un lugar en el festival de Reading 1982 junto a una constelación de estrellas metaleras y rockeras, tal es el caso de Iron Maiden, Gary Moore, Michael Schenker Group, Diamond Head, Budgie, Tygers Of Pan Tang, Y&T, Randy California, Blackfoot, Wilko Johnson, la Bernie Marsden's SOS y el guitarrista de Gillan, Bernie Tormé entre otros nombres. Ahí la banda aprovechó estar metido en la escena y arribó a América de la mano de Atlantic con su 2do disco "You Can't Stop Rock 'N' Roll" uno de los trabajos mas icónicos del género y que fue muy ayudado por una MTV naciente que los agarró de favorito y de una movida Angelina GlamMetalera con la cuales empezaron a quedar bastante pegados por su grotesca imagen.
The Kids Are Alright
You Can't Stop Rock 'N' Roll
Twisted Sister había logrado hacerse notar en el mercado europeo de la NWOBHM y en el mercado americano del Glam Metal y ahora lograría llegar a absolutamente todo el planeta con su obra maestra y su disco mas vendido y famosos "Stay Hungry" de 1984. Un disco que rompió los charts y los esquemas de MTV con sus videos que se pasaban a cada momento. El suceso monumental de "We're Not Gonna Take It" y "I Wanna Rock" convirtió a Dee Snider en un icóno nacional para los mas jóvenes y a Twisted Sister como la banda del momento en todo el planeta.
I Wanna Rock
We're Not Gonna Take It
La ultra noteriedad de Twisted Sister le trajo mucho éxito, fama, fortuna y cosas de renombre como participar en el "Hear 'N' Aid" de Dio (Eddie Ojeda grabó solos en Stars) pero también se ganaron un poderoso enemigos (como varios de sus colegas) en el PRMC de Tipper Gore que se empeñó en censurarle toda su música por ser contestataria y ser apología a la rebeldía y, por ende, violencia. El Rock corría peligro de ser censurado para siempre por esta señora frigida y poco agraciada, pero ahí es donde Dee Snider se recibe de héroe de todos nosotros y en una épica escena de la historia de la historia irrumpóo con todas sus pintas en una corte, junto a Frank Zappa, y dio un discurso descomunal que dejó boquiabierto a todo el jurado y los presentes de la sala.
En medio de todo esto, Twisted Sister se metió a grabar su 4to disco de estudio: "Come Out And Play" con la presión de sacar algo como fue su exitoso predecesor multi-platino. La cosa salió bien en cuestión críticas y aceptable en cuestión de ventas pero l posterior tour y promoción fue un desastre y llevaría a la banda a una inesperada crisis.
Be Chrool To You Scuel
Come Out And Play
La producción del productor de Scorpions, Dieter Dierks, no fue suficiente para alcanzar a la brillante labor de Tom Werman y eso derivó en que la banda entrara en un impasse donde Dee Snider buscó nuevos aires: Primero buscando formar una sociedad con el guitarrista de Gillan y futuro guitarrista de Iron Mainde Janick Gers. El Proyecto no prosperó y el cantante se dedicó a escribir para con su carrera solista junto al baterista Joey Franco. A eso se sumaba Reb Beach y Kip Winger en guitarra y bajo (antes de fundar Winger) y Steve Whiteman de Kix. Snider fue con el material a Atlantic pero no se lo aceptaron a menos que fuera lanzado como Twisted Sister, así que Dee se vio obligado a reunir a la banda (con Franco manteniendo el lugar de A.J. Pero que se había ido hace unos meses) y lanzar el polémico "Love Is For Suckers" de 1987. La producción de Beau Hill (Ratt) había convertido el sonido metaloide con coros bombásticos de la banda en un sonido de Pop Metal que ya ni siquiera venía en ese entonces (Empezaba a aparecer el sleazy Rock que la misma banda había influenciado) lo cual hizo que el disco fuera un fiasco en ventas, masacrado porla crítica y ninguneado por los fans. El desastre fue tal que Twisted Sister ni siquiera toca temas en vivo de este disco. Un error fatal en la carrera de la banda.
Wake Up (The Sleeping Giant)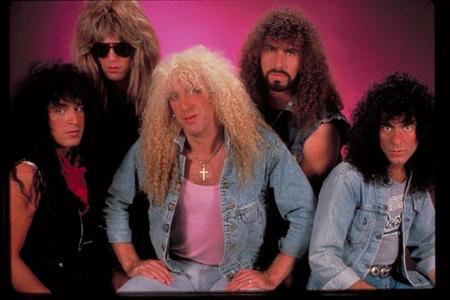 Man, what the fuck happen here?
Twisted Sister se terminó separando poco después del disco cuando Dee Snider anunció su partida de la banda. Mientras los otros integrantes hicieron poco y nada post TS, Snider continuó si carrera con dos proyectos mas que interesantes: El fantástico supergrupo Desperado que formaba con Bernie Tormé (Gillan, Ozzy Osbourne), Clive Burr (baterista original de Iron Maiden) y Marc Russell y con el cual sacó un disco fascinante (editado en 1996 pero grabado en 1989-90) llamado "Bloodied But Unbowed" y Widowmaker le siguió, en una nueva asociación con Joey Franco pero que salió muchisimo mejor que el último disco de su banda madre. Con Rusell al bajo y el bueno de Al Pitrelli en guitarra, Widowmaker editó 2 grandes discos: "Blood And Bullets" de 1992 y "Stand By For The Pain" de 1994. Fascinantes trabajo que saciaran a todo fanatico de Twisted Sister.
The Heart Is A Lonely Hunter
The Widowmaker
Long Gone
Tras estos proyectos, Snider volvió a frecuentar a sus colegas. Y tras reuniones parciales en 1997, 1999 y un disco solista de Dee en el 2000, la banda se reunió a tocar en conmemoración a los hechos del 9-11 y generó gran conmoción en sus fans que pidieron mas shows y giras y todo. Así fue como para 2003, Twisted Sister se reunió con su formación clásica y se dedicó a girar por el mundo. La banda no grabó nuevo material pero si re-grabó su clásico "Stay Hungry" como "Still Hungry" en 2004 con una producción mas dura y potente.
Burn In Hell
The Price
Twisted Sister Live At Zona Roja de Palermo, 2006
Actualmente, Twisted Sister se encuentra en marcha de su tour despedida con motivo de su 40° Aniversario y la muerte del gran AJ Pero por complicaciones con los excesos a inicios del año que le provocaron un infarto. Mike Portnoy ocupará su lugar durante el tour. Una lástima que esta sea la despedida de unad e las bandas mas grandes del genero pero por suerte, parece que Dee continuará haciendo música como nos muestra en su magnifico single de este año "Too Hell And Back"
Ficha Técnica
Dee Snider - Voz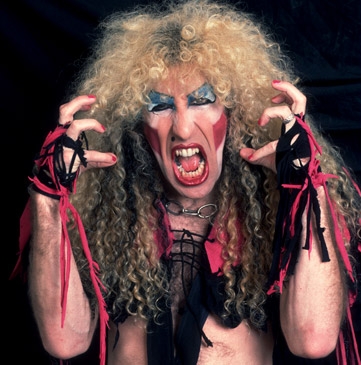 Eddie "Fingers" Ojeda - Guitarra, Guitarra Rítmica, Coros
Jay Jay French - Guitarra Rítmica, Guitarra, Coros
Mark "The Animal" Mendoza - Bajo, Coros
A:J. Pero - Batería, Percusiones
Discografía
1982 - Under The Blade
1983 - You Can't Stop Rock 'N' Roll
1984 - Stay Hungry
1985 - Come Out And Play
1987 - Love Is For Suckers
2004 - Still Hungry
En Vivo
1994 - Live At Hammersmith
2002 - Club Daze II: Live In The Bars
2006 - Live At Wacken: The Reunion
2008 - Live At The Astoria
2011 - Live At The Marquee
Recopilatorios
1992 - Big Hits And Nasty Cuts
1999 - We're Not Gonna Take It
1999 - Club Daze I: The Studio Sessions
2002 - The Essentials
2005 - The Best Of Twisted Sister